As they say, there are three types of lies in this world: Lies, damned lies and… weather reports. If I'd actually paid attention to the forecast, I would never have witnessed (let alone photographed) this scene in Xingping, near Guilin in Southern china.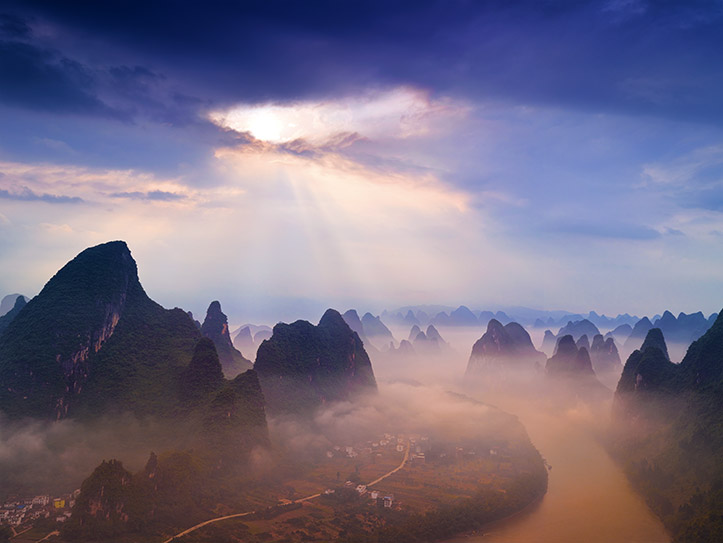 Titled "portal", this image represents a painful 3 days with almost no sleep – so maybe I'm too attached to it – but still, I do love that view.
While my inability to speak Mandarin can cause problems, luckily I have a few good friends here in Shanghai who are more than willing to help out in terms of getting to locations that I'm trying to capture. This would be one of those trips – my friend "ST" helped so much with all the arrangements and local guides/cars, it basically left me to just click away as we headed from viewpoint to viewpoint! 🙂
Now of course, when you check the weather report on the morning of your flight to take photos, the last thing you want to see is what we got that day – 100% rain, all day, every day.
Do we cancel? No – as sometimes the forecasts are wrong. Checking with a few locals, it appears that during the early summer period Guilin (and Xingping, in Guangxi province) is always forecast rain simply due to the amount of moisture that sits permanently in the air. We boarded our flight and went for it.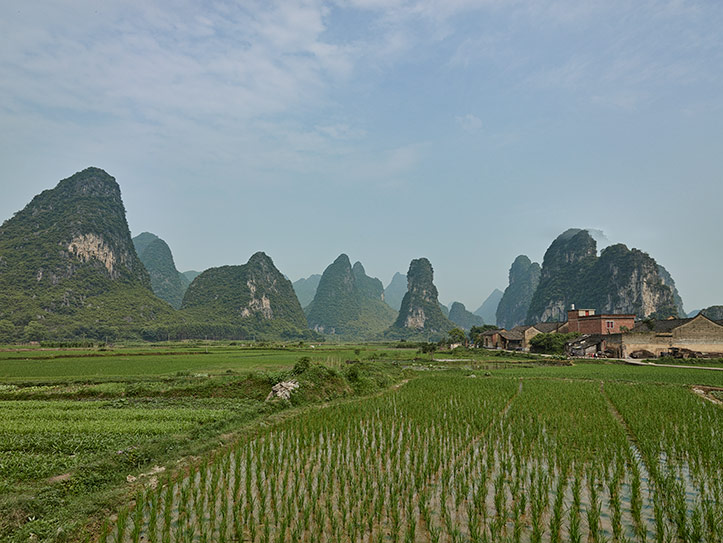 Arriving in town, it seemed the weather was a little better than expected – with blue patches of sky every now and then too. That afternoon we headed south with our guide and his driver to get to the outskirts of the natural scenic area. I say "natural", in fact the shot above is of a farm located inside a military base. Yes – we had to hide down low in the car as our guide (who knew them) persuaded them to grant us access. Cool though these mountains were, they weren't quite what I had in mind when it came to sunrise or sunset shots over the huge monolithic rocks – we needed a different plan. What we didn't realise until that point was that the "comfort" of the Shangri-La hotel in Guilin where we had booked was actually useless in terms of location when it comes to getting to the mountains in Xingping for sunrise. We would be checking out at 3:00am the next day and finding a new hotel. Ouch.

Looking at the weather once again (well, why not?), it felt like this could be a complete waste of time as we set out in the car. Driving through wind, rain, fog, mist, the works – it didn't get better. That is, until we started the mountain climb. What had been a view of nothing for the hour before had just delivered a small point of light in the sky: the moon. Well, if we can see the moon, that means there's a clearing – things had started to look up 🙂
Sadly, my days of standing in front of the camera are long gone, and so has my fitness level. I can tell you, when you stop at a car park in the middle of the night and your guide points up to the highest mountain you can just make out in the distance, the last words you want to hear are "we climb here". Great. We started, we were alone, I figured at least the effort of carrying nearly 20kg of gear with me up that mountain would be worth it when we got to the top – surely we'd have the place to ourselves?
No.

It seems the Guilin mountains are a magnet for photographers, year round. We were there before the sunrise, but these were people who had been there before sunset! Trying to find a space on this three-tier platform was beyond impossible, until one very kind man offered to squash his tripod a little smaller to make some room for me. It was still before sunrise, giving me time to get set up, and that one guy made a failed trip into a success with that single action – For that, I'll always be grateful.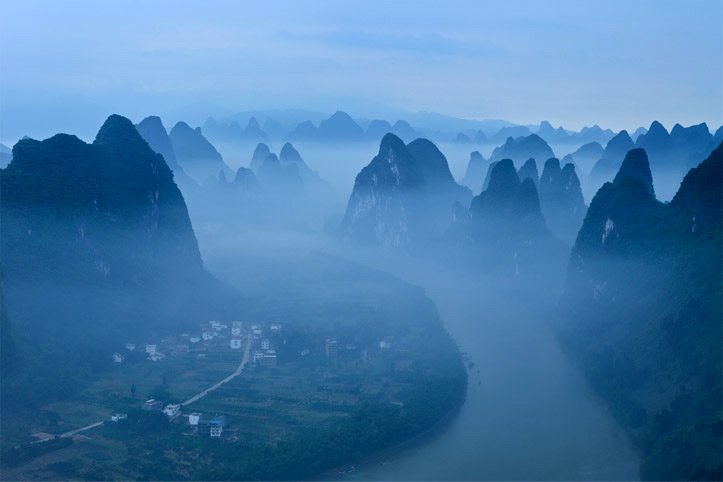 Before dawn, the colours across the river are all washed out in blue. Off in the distance you could see layer after layer of huge mountain formations as they stand tall next to one another. The mist adding to the atmosphere, but also adding to the tension around as every photographer started to fear the worst: After all that effort, maybe the sun wouldn't actually make an appearance.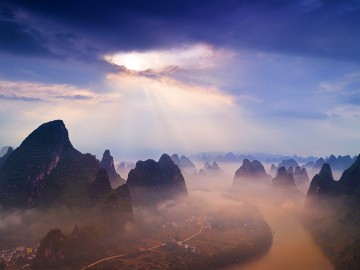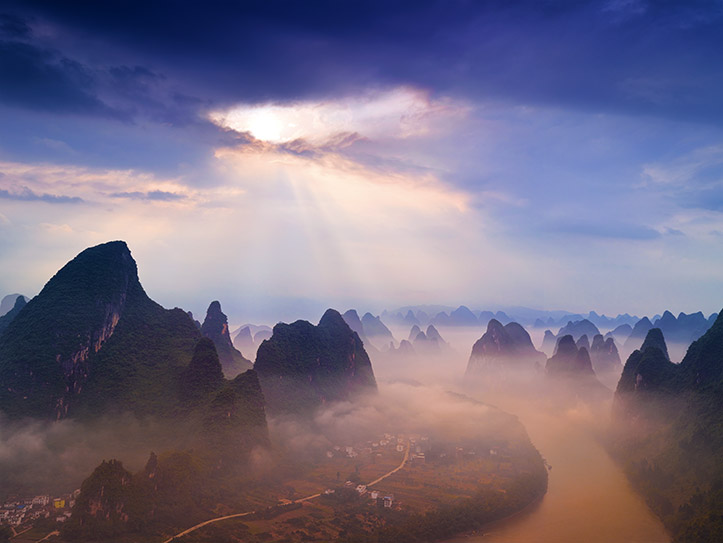 While it didn't ever manage to make a full clearing, the shot I managed to get was good enough for me: "Portal".
It was actually taken around 25-30 minutes after the official sunrise and a few photographers had already packed up and gone home disappointed. Given the fact we'd flown here, driven through the night, cancelled our hotel and climbed up the side of the mountain for (effectively) only this shot, I figured we may as well hang around – and I'm glad we did.
The colours of the valley change completely during the day – from cool blue, to brown misty air (I didn't ask!) to warm oranges and reds in the evening as the sun breaks through on its way to the horizon – the whole time changing the look of the mountains. You need a neutral density grad filter to balance the brightness of the sky with the relative darkness down below, but wow, what a view to take in.
So with the morning shots done, it was time to hit the road – oh, and a little stop-off at a Chinese service station:

Lovely. Yes, that's a huge channel running down the entire length of the (unisex) public squat-toilets. And if you're at the end of the line, you guessed it, what a view you get beneath. Despite being assured that these were actually "good ones", as (cough) "they have doors", I decided to pass on this particular stop and wait until we got to our hotel. After all, it was a 3-star property in a scenic town.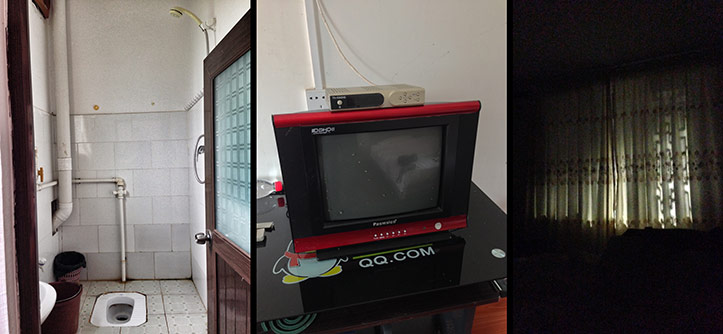 BAD decision. If anyone thinks that travelling to take photos is glamorous, allow me to describe the three pictures above. 1) Our shared squat-toilet with shower facilities above it (ensuring that of course your feet could accidentally fall in as you washed). 2) Our TV from 1982, complete with the last guest's bodily fluids splattered all over the screen. and 3) curtains which do nothing at night to block out the streetlight affixed to the side of the hotel. Great. Well (believe it or not), I've stayed in worse – at least there wasn't blood on the sheets in this one – so we ventured into town.
Xingping is/was actually a small little fishing village – quaint, with transportation based around bamboo rafts and using traditional farming as a primary source of income. The problem is, that all changed when people realised the beauty of the scenery down here. Even the government loved it so much that they put a painting of the mountains on the 20 Yuan bank note.
So, what happens as a result? The place is over-run with tourists, plastic replica boats replace the traditional bamboo rafts, fishermen throw their nets over the water for RMB50 a go in front of groups of photographers (so when you see those "traditional" photos of the fisherman in a natural setting – remember, it's not!) and hundreds of tour guides swarm around the place with annoying speakers piercing the quiet air for hours on end. We'd had enough after 10 minutes at the "scenic spot" and opted to explore the old town instead while looking for somewhere to eat.

Allow me to translate the above: That's a menu for a restaurant that sells cat, dog, rabbit head and donkey meat – they'll even put it on a pizza-type-thing if you want. Oh, how I missed the Shangri-La. Still, we were here for only two more shots: Sunset from the other bank of the river, and one more sunrise.
Back out to the countryside we headed – this time to trek through a damp forest on the way up to another vantage point. Thinking the morning hike was tough going, I was about to be taught a lesson: Daytime humidity (even when the sun is partially blocked by mist) is a killer. Yes, that's my t-shirt in the picture above and it's not rain that it's covered in. 🙁 However, the view from up there was equally incredible and ST (seen taking a shot, above) and I managed to get a few shots before the sun completely disappeared behind the clouds: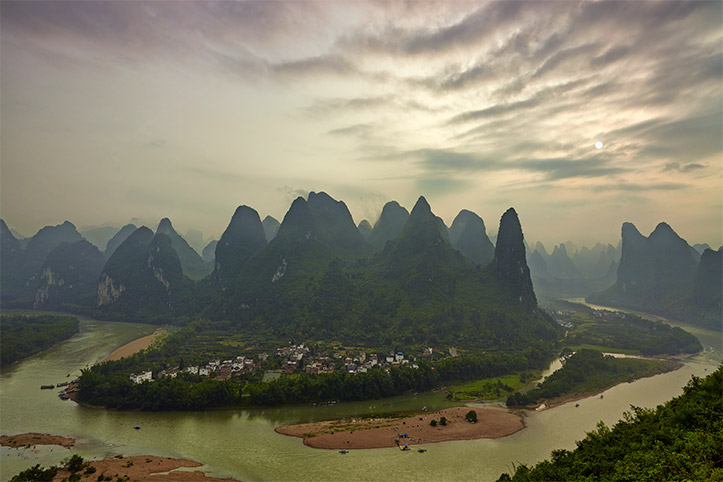 In some ways, the persistence of the mist and cloud was disappointing – but as we were rapidly discovering, it's a daily occurrence in Guilin; it's very rare that you get a completely clear day. In fact, looking back at some of the images I took, many of them almost "need" the mist to portray the feeling of this region anyway.
Packed up for the night – the next day was going to be another 3:00am start, so back to our hotel room with the wooden beds and a useless curtain to sit up through the night before the car was ready again. I had a feeling we'd been too lucky with the weather already, but got a bit of a boost when the rain that had been going on all night started to clear on our way back up to the mountain. When we got there however, despite being clear enough to see the river below, something was wrong: a distinct lack of photographers.

I wonder if they use a different weather forecast (one that doesn't lie!) to the one we had with us. Or whether the locals "just know". Either way, they were right, we were wrong. Along with 4 other photographers up there, we each had plenty of space today – and even places to stay out of the rain that began as the sun finally rose. In fact, not one of us even bothered to put our cameras on the tripods we set up it was that certain we'd be seeing nothing. Spending a little time talking (through ST) with some of the other guys, it seems we'd been very lucky the day before – one of the photographers was there on their 4th week-long visit to try and capture the mountains with a break in the sky, each time returning home with nothing. 🙁
Was it worth the visit? For my favourite shot of the trip – I'd say yes. "Portal" really is a cool picture when it's printed big. So then I guess it just comes down to how you view good fortune when determining success. I'd stayed in a horrible hotel. I had been hiking up mountain sides in the middle of the night in 90% humidity in rain. I'd very nearly eaten a close relation to my family pet. All for just 2 or 3 shots that were "usable".
But I'd still managed to leave Guilin with 2 or 3 more shots than others had managed. It seems I did better than most. 😉