A few miles south of the town of Rotorua, on the north island of New Zealand, lies a very special place. Of course, New Zealand itself is home to many volcanoes and much of its stunning scenery has its origins in volcanoes, glaciers and all manner of activity deep within the Earth – but this is one of the few places I've visited where you really can get up close and personal with nature…
…and the awful stink of the elements which make up our planet!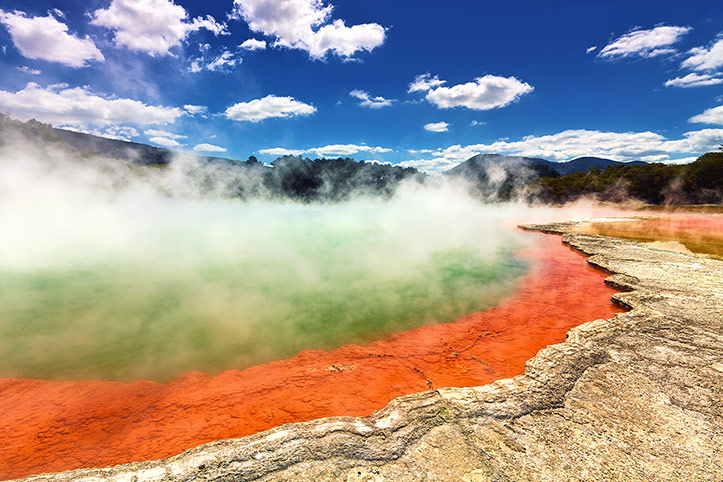 "Witches' Brew" – print available to buy now
This image, for me, perfectly represents the awesome view but also caustic environment in which I was stood for much of my visit to Rotorua.
If you want a closer look, however, take a look at the video to the left – taken at the point I was shooting the image above.
Now, of all the stupid things I've done, this has all the elements of being included in my top 10 list.
At 65m wide and around the same depth, this truly is a glimpse into the deep, dark, depths of what exists beneath our feet.
Yes, that's (based on the body, digital back and lens) around £45,000 worth of camera equipment (and me) being constantly dowsed in a boiling hot steam bath of nitrogen, methane, sulphur, hydrogen and arsenic (yes, arsenic!) for over 10 minutes trying to get the shot I wanted above.
Interesting viewing for sure, but I can assure you the stomach ache I had after this episode, along with the desire to burn everything I was wearing when I got back, mean it's not an entirely pleasant experience!
I guess the obvious question at this point is "where is this place?" Well, Wai-O-Tapu is about a 3 hour drive from Auckland, south, and very well signposted with the geyser logo for tourists (like me!) pointing towards the famous volcanic corridor that runs through the middle of the island. Click here for a Google map, but once there, you'll see there are a lot of features to see, so allow a good 3 hours to get a decent exposure to it all.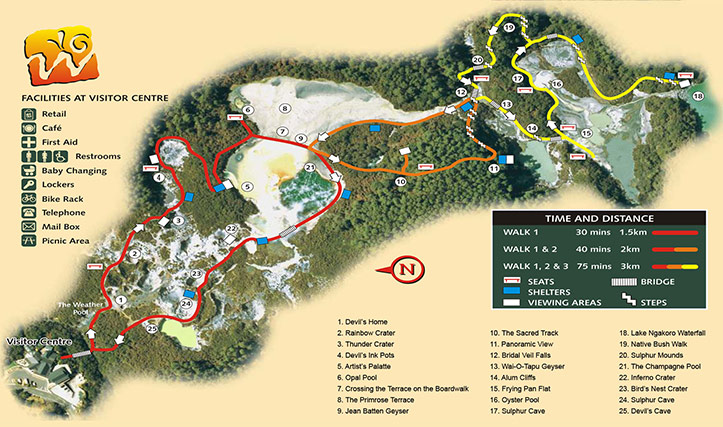 Once inside the Geothermal park, you'll find the "Champagne Pool" (as in the above image) – which, when photographed over "Artists Palette" looks more like a witches' cauldron to me, with its steam and gases rising into the atmosphere.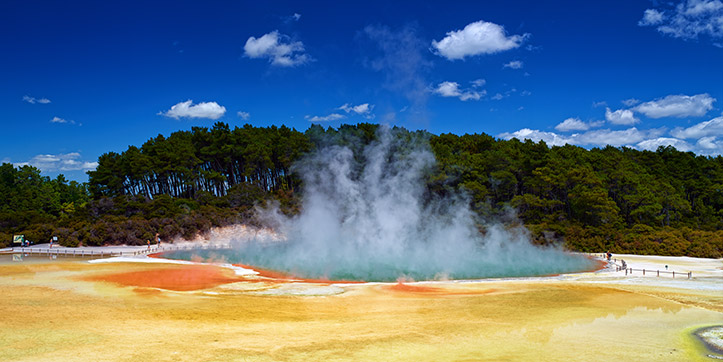 Along with the surrounding mud pots which spew out molten elements from under the earth's surface (while apparently good for the complexion, they do stink!) the Oyster Pool gives you a glimpse into how harsh our environment must have been when the earth was being formed. After all, I guess these are simply the planet's form of an "exhaust" for everything that's bubbling away down below.

One final feature which lead to many questions about its "authenticity" is a landform called "Devil's Cave". The challenge from many others? "Has that been photoshopped?" or "it's not really that green, right?". Well, I can tell you now that the below photograph is indeed not an accurate representation of the natural pool of water you see in this crater…
…what exists in reality is MUCH more vivid. The camera tries, but can't actually convey the true "WOW!" that you hear everybody exclaiming as they climb the final ridge to see this phenomenon. What you see below is a 100% natural, organic, bright neon green, hot pool of water.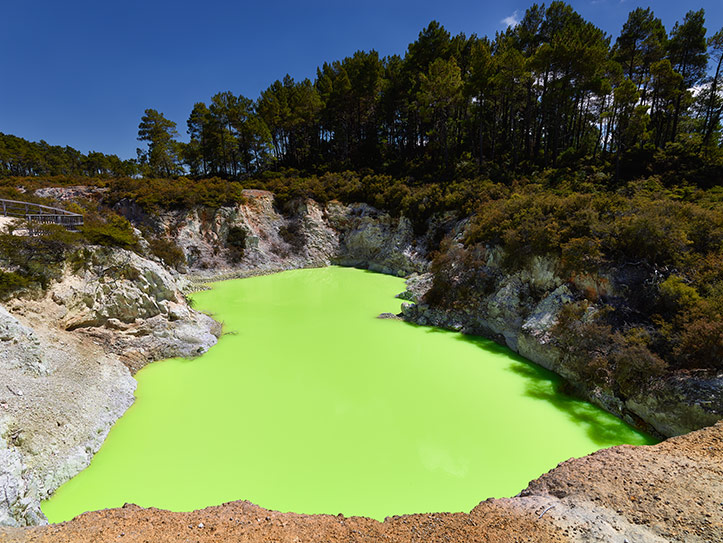 Is there more to see? Of course – and I won't ruin it for you.
Is it worth going to see? YES. If you like "earth stuff", or want to see a waterfall filled with boiling water, or like the idea of being dowsed in steam mixed with arsenic and sulphur (!) then it's worth taking the time out to visit this true "wonderland". It really was great to capture something that is so accessible to us all, in a genuinely natural setting. 10/10 guys 🙂