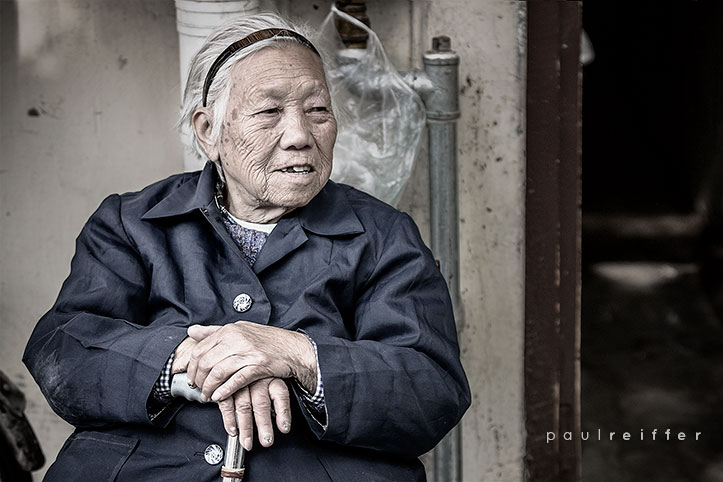 Many people said : "you'll love the street photography opportunities in Shanghai" and from looking around the galleries here, I was always certain they were right. The challenge is, as someone who's never really gotten into that genre, it's tough to know what makes a good street photo or not.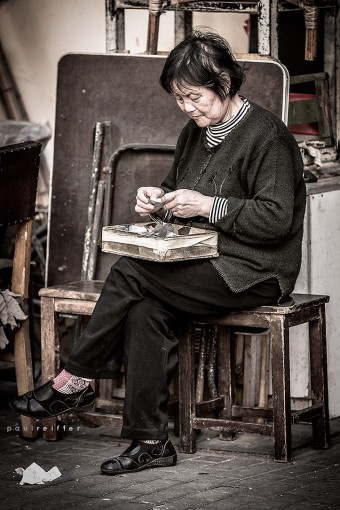 Walking around Xintiandi in downtown Shanghai, you'd be forgiven for thinking the opportunities for any good form of street photography would be limited to shooting ExPats (something I'd like to do, literally, every now and then!) or the handbag-dwelling ridiculous dogs of the wanna-be-rich around town.
However, step a few blocks away and the reality that affects so much of Shanghai becomes immediately apparent. The affluent areas are often built inside the "real downtown" – and stepping out of the westernisation gets you to a place where a whole lot more is going on and people are much nicer to be around.
This, is where my first walk and attempt at some candid street photography took me.
Steering clear of the tourist-trap Dongtai Lu "antique" sellers (where you can see antiques being made to order in the workshops!) you can walk through the little alleyways to the south-east of Xintiandi to find real people enjoying their real lives. Take the woman above – she's there crafting children's mobiles from foil wrappers with more skill and creativity than any toy company could ever produce.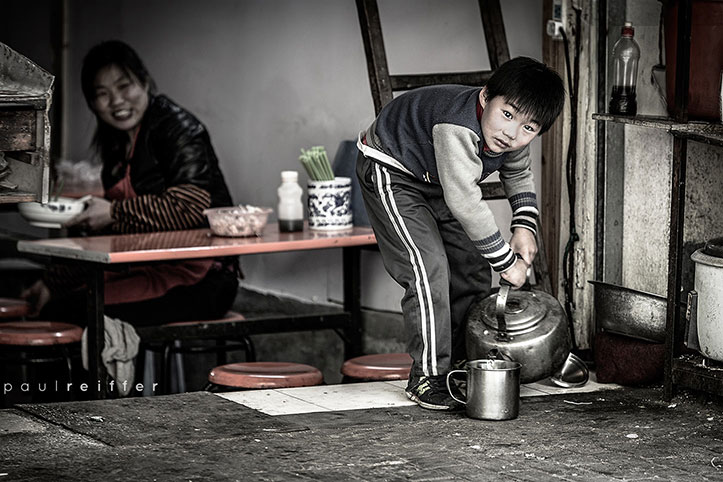 Or go a few doors down to find a family eating out in one of the many street-side restaurants, where a mother keeps an eye on her son as he brings hot water for their diners' tea, fresh to their table. Interestingly, the second she told him there was a photographer across the street taking his picture, he started posing like a mini-model – luckily, I got this shot in first 😉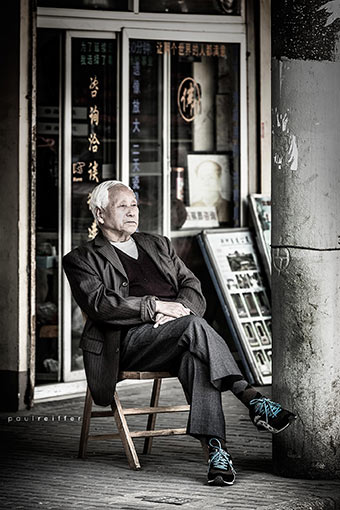 You pass shop owners and grandparents of those who work in the establishments just sat out enjoying their afternoon watching people pass by (and no doubt wondering what's so interesting that a Westerner would want to take their photo) and think how relaxed that life must be.
In reality, I'm sure it's a hard existence. When a meal at one of these places is only RMB4 – that's a tough life in a city that can be as expensive as Shanghai, but in one single walk I got a real feeling for how simple life can be, and how close these guys are as a community.
Obviously not everyone wants their photo taken – and the community spirit really does kick in.
Handbags held in front of friends' faces and clever placement of certain objects to make sure that someone's identity remained private were just some of the things I saw – and rightly so, in fairness.
As with anything, some of the guys loved the attention, others did not – and as photographers we really do have to expect the privacy of those who want it.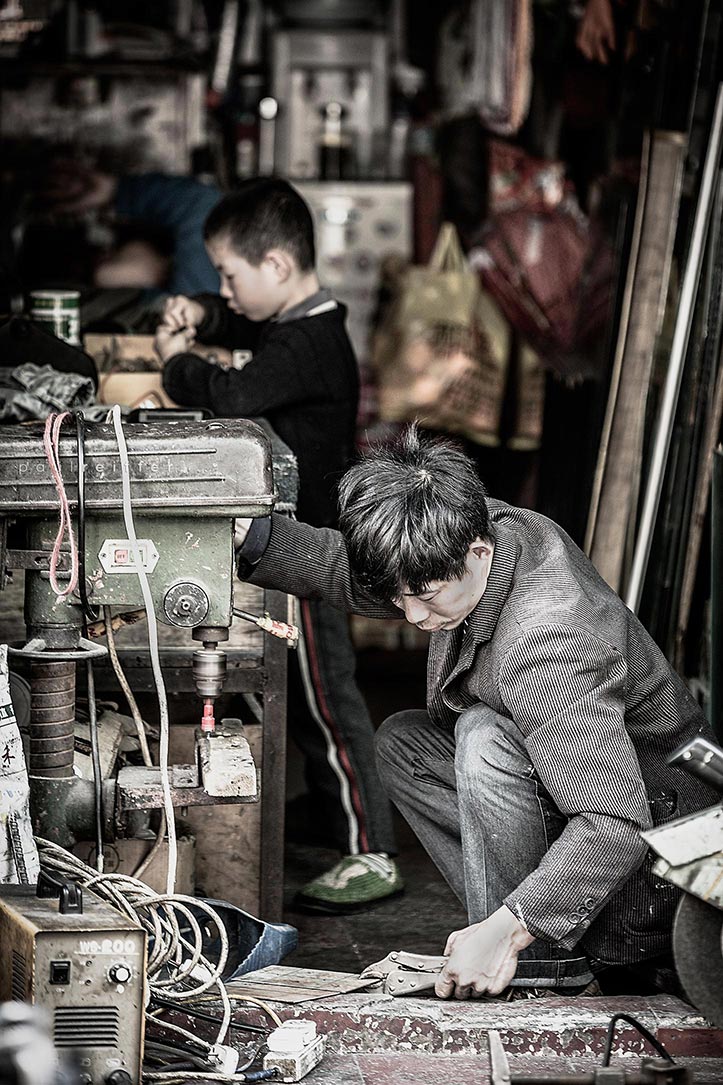 One really lovely image for me was this one (above) where a man was teaching his son how to repair a motorbike. Not like when I was this kid's age, learning how to paint (badly) on a spare wall that was going to be papered over anyway – I mean, this kid was working on the electrics to get a customer's motorbike working.
It's times like this, you just think to yourself – WOW. Health and safety aside, the work ethic over here is just phenomenal. Some of it through necessity, I'm sure – but a lot is built in as part of the Chinese DNA. The need to do better, to work harder, to learn faster, to earn more. Perhaps if more people in our so-called "western" societies had the same mindset, we'd all be in a very different world…
Anyway, you don't come to this site to get a party political broadcast, so I'll leave you on a very different note.
On my last trip home to the UK, my mother was looking at the "old sewing machines" by Singer etc, as an ornamental piece – a "reminder" of the past, if you will. Not here… Here, that "Flying Man" (complete with foot pedal mechanism) is put to good use. Want anything fixed/made/altered/created? This guy's your man – and as a lesson to all of us, I'm sure he could do things with his 100 year old piece of equipment that those with the latest and greatest could only dream of!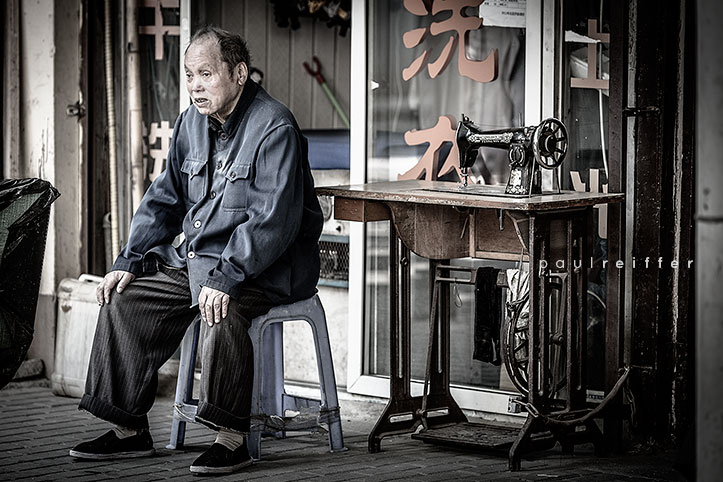 So that's it for "walk 1". I wouldn't say I've "got the street photography bug" as some have predicted, but it's definitely something that brings a certain level of challenge and story to the images I capture that landscapes and studio shots can't touch. I'm off to do "walk 2" soon, and we'll see if there are any other characters waiting just streets away from the Gucci and LV stores of "modern Shanghai"… 🙂