Thames Town – according to Wikipedia, has "architecture [which] is themed according to classic English market town styles. There are cobbled streets, Victorian terraces and corner shops." So, what a nice change from the bustling polluted streets of Shanghai it would be to go and have a look around (besides, it's always fun as a Brit to see how other countries look at us – take Disney's Epcot Center for a perfect example!)…

On very few occasions during my time in Shanghai have I been genuinely surprised, but this would now most definitely count as one of them as "Thames Town" has a dirty secret, hidden from those thinking of visiting but VERY obvious to those who actually do…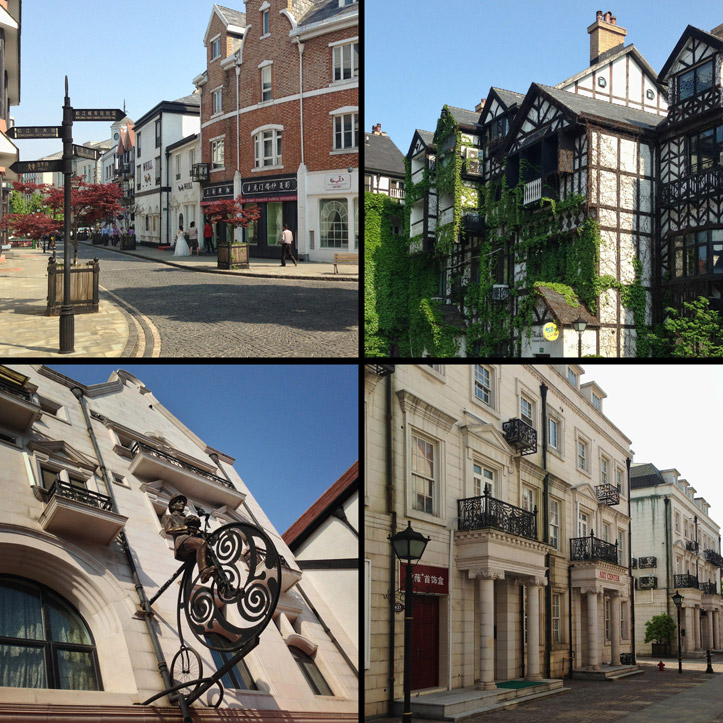 From the above, it looks all quite cool really. On first impressions I was genuinely, well, impressed – they hadn't gone too overboard (like Disney do) with the "Rose & Crown Pub" and fake British accents or anything, instead opting to take some of the key architectural elements from the West and create a "mini-Europe" just 30km from the centre of Shanghai.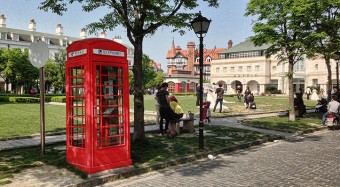 They have a river (the "Thames"?!), streets named after English ones, big green parks (which is a breath of fresh air from 30km away) and a huge church.
Hell, they even have a traditional British red telephone box!
But wait a second, what's that in the background to the right of the phone box? Is that? No – it can't be. I mean, this isn't a "real" church – so why would there be….
…a wedding going on?!
Oh yes, that's exactly what it is. Well, kind of.
You see Thames Town is where, evidently, people go to get their "Quaint English Vacation" photographs for their wedding album. A quick point of note, it's quite common in China to have your wedding photos done before your actual wedding day so it's normal to see people renting dresses and going for photo shoots ahead of time, but WOW – this place takes it to a whole new level…

Many of the photographers I know complain of the "too many cooks" scenario when it comes to organising photos for their clients' special day. If they spent an hour or two at Thames Town, I guarantee they'd forget all of their problems in a heartbeat! You see, the place has literally turned into a wedding-photo "Mecca". People come from far and wide to rent their outfits, get their "1 hour slot" with a photographer and leave with some classic images suggesting they were in the heart of Europe for their special day.
The only thing is, in the heart of Europe, you don't tend to find 3 or 4 other couples getting married in the background of your cherished prints!

For clarity, each of these pictures with more than one "happy couple" are not a group shot – this is several shoots happening at once. And this isn't a cheap experience either – people save for a long time for these photographs. Call me cynical, but it strikes me as utter madness!
I can't believe for a second that this is a "fun" experience. The second the camera was pointed away, I didn't see one client/customer/"happy couple" smiling – instead, I saw stress. The "studios" which now fill what was originally supposed to be a town full of commercial shops and residences are full of factory-line-style "brides to be" getting hoisted into dirty used dresses and being plastered with makeup for their impending shoot – the men, pacing up and down outside invariably with a cigarette in their hand.

Thinking that maybe I was just seeing the worst of things, I did a quick experiment. Within 3 minutes (timed), how many wedding setups could I capture with my iPhone? The answer…. 23. TWENTY THREE couples, in 3 minutes of walking around 4 streets within Thames Town, all having their so-called "special day" captured by the experts. Wow.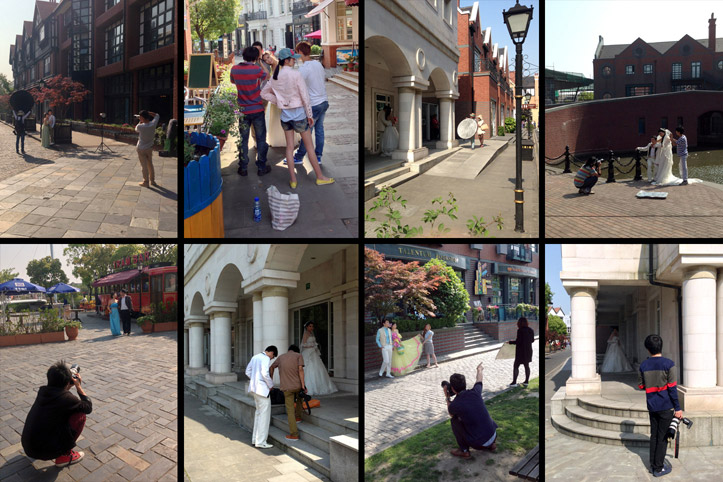 The sad part? It's actually quite a shame – the town could be (and probably was) a genuinely peaceful and well architected respite from the craziness of downtown Shanghai. The buildings have actually been styled really well – and sympathetically compared to other countries' efforts – but the second you look just that tiny bit more closely, you notice: Those buildings which aren't yet derelict are nothing more than photo studios, waiting for their (evidently) captive audience to hand over cash 🙁

And it really is such a shame, in my view. Having been to a few of my friends' weddings – the photos are a happy part of the day. Indeed, it's only when you get a crap photographer that they become stressful – it should be fun! Remembering that a lot of these guys aren't even married yet, the stress on their faces (fuelled by angry photographers who are clearly working to a deadline to get "the shots") really doesn't scream "I'm having fun" as you walk around. I know people talk about the "Wedding Factory" back in the UK but woah – these guys really have re-written the book.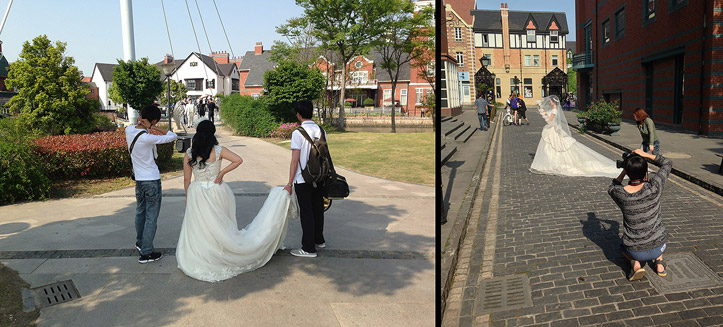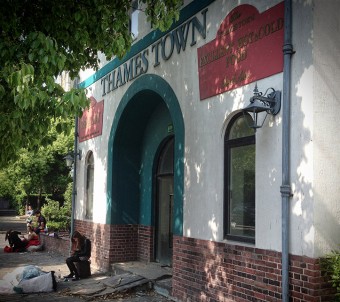 Not put off yet? In fairness, you really shouldn't be – it's a great place to walk around and a nice environment (I'm sure even nicer on weekdays) to take a stroll in some fresh air and see what can be done when it comes to recreating architecture from around the world. Even the wedding shoots can be fun(ny) to watch every now and then, if you can cope with constantly being told to get out of the way in Mandarin!
The saddest part for me, however, wasn't actually the disaster of a wedding photo factory I saw : It was the fact that other than these studios that have popped up, which clearly do well from Thames Town, every other building in the area is now derelict, including the pub!
Whether the photography drove the other businesses and people away, or whether they moved in to fill the gap, I don't know – but it's definitely their town now.
What was conceived as a unique idea and a tranquil setting has slowly become a photographer zoo and a soon to be derelict old town that I'm sure used to be a nice place to live. Such a shame. 🙁