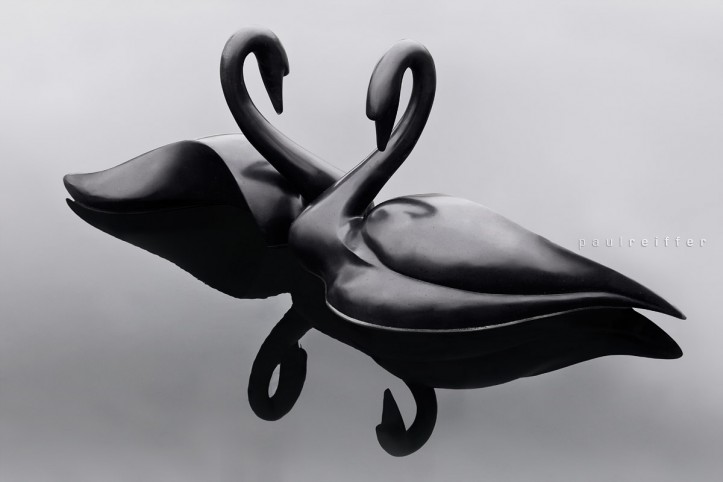 It's funny – as photographers, we always tend to rule out "miserable days". The sky is dull and grey, no warmth to the light and not even any direct sunlight to cast an interesting shadow. So, having pre-booked tickets to go and visit "Sculpture By The Lakes" – an exhibition at Pallington Lakes by artist Simon Gudgeon – it was with a slightly heavy heart that we set off into the depths of the Dorset countryside.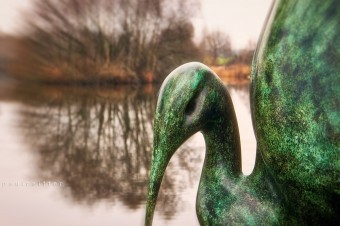 It seems I was wrong. Granted, it was hardly picnic weather – and I'm pretty sure we were the only visitors on the day, but what failed me in terms of weather was more than made up for by the artwork on display. Simon displays his sculptures at his home, despite having pieces in Hyde Park for many years now and running several exhibitions.
The image to the right, "Thoth" is one of the first you encounter, looking all the way down one of the three lakes, and is a great example of the perfect positioning of metal artwork against the natural setting of the countryside and water that surrounds it.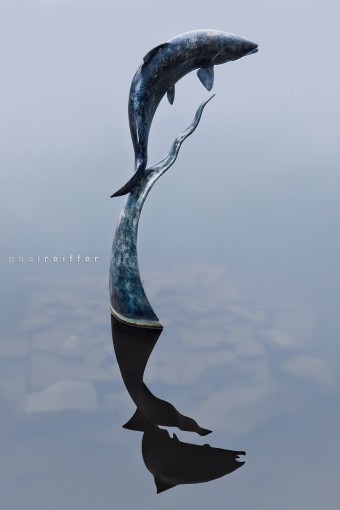 Being a slightly more "scientific" person by nature than an "arty" one, I have to say I preferred discovering the sculptures which used reflection as a key ingredient of their appeal. The Black Swans you see at the top of this post being one of my favourites, followed, a close second by this piece – "Leaping Salmon". Funnily enough, had the sun been out, I'd not have been able to get such images so in a weird way I'm really pleased it was a "dull day"!
I have to say I was a little torn when watermarking these images. Yes, they're my photographs, but at the end of the day I'm simply capturing the artwork created by Simon Gudgeon – fantastic artwork that it is. So in the same way that a model can sometimes provide me with a "wow pose" in the studio, these pieces really don't need anything to make them look good. In fact, there's a risk I could make them look less enticing than the real thing, which would be a shame!
I've included a few more images of some of my favourite sculptures from the day below – but it really is different when you're actually there so I would encourage anyone to pay a visit to the estate if you get the chance.
First up, below – one of the landmark pieces of the collection: "Search For Enlightenment" – and believe me, the photograph doesn't do their size any justice. These are stunning, and I can only imagine how they look at sunset/sunrise against the deep copper tones.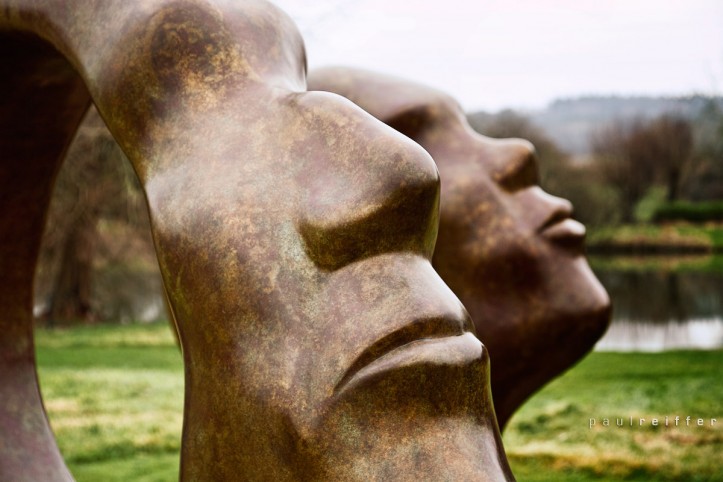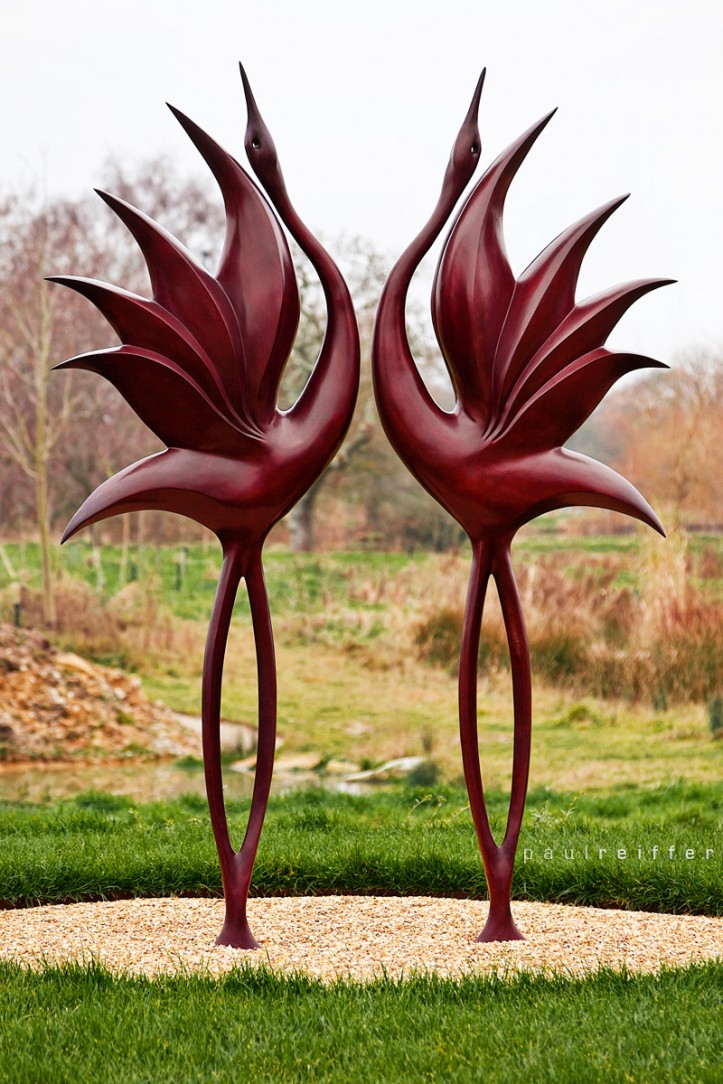 Oh, and on a final note – the above, "Dancing Cranes" is installed in Simon's back garden, slightly away from the lake (but still accessible to visitors). Some people have a pond in their garden. Others, a small fountain. It must be an unusual experience to walk out of the kitchen to be surrounded by a collection of your own 7ft high works of art…!
Anyone interested in taking a trip out there – I'd recommend it (we may even head back there on a slightly warmer day for a picnic next time!). At £10 per person, it may seem a little steep, but it's worth a look and certainly makes for a pleasant afternoon in the country (especially as there are half-price offers every now and then, but you have to be quick to catch them…!)
I only hope some of these images do the fantastic works of art justice 🙂