CES – or the "Consumer Electronics Show" in Las Vegas this year was a must-see for me. While there to look at everything, and learn about emerging technologies in the conference, I couldn't help but keep my "photographer hat" on and hunt out some little gems during the 4 days I was in town.
So, the obvious big-ticket crowd pleasers: Nikon and Canon had their new flagship products at the show for a hands-on look at what the D4 and 1D-X, respectively, had to offer.
Being a "Canon boy", I naturally spent a little more time playing with the 1D-X but I have to say, both seem to be worthy top-end releases of their respective companies' line of DSLRs. The D4 had demonstrations from sponsored US photographers, while I was given a little more "free time" with the 1D-X to give it a go.
Naturally, I'm biased, but I have to say the Canon certainly felt better built although both are superb bits of technology with sharp captures, fast response and much improved autofocus. With the D4 releasing onto the market a good month ahead of Canon's offering, it'll be interesting to see how it plays out (especially as Canon have some criticisms to fix even before it's been released – around focusing above f8 and video capture). That said, I really am looking forward to seeing them in the marketplace (although, granted, a few months might help see both prices fall from their $6,000-$6,800 / £4,600-£5,200 marks on release!
Also on the Canon stand, some useful "freebie" sessions on video, photography, settings etc.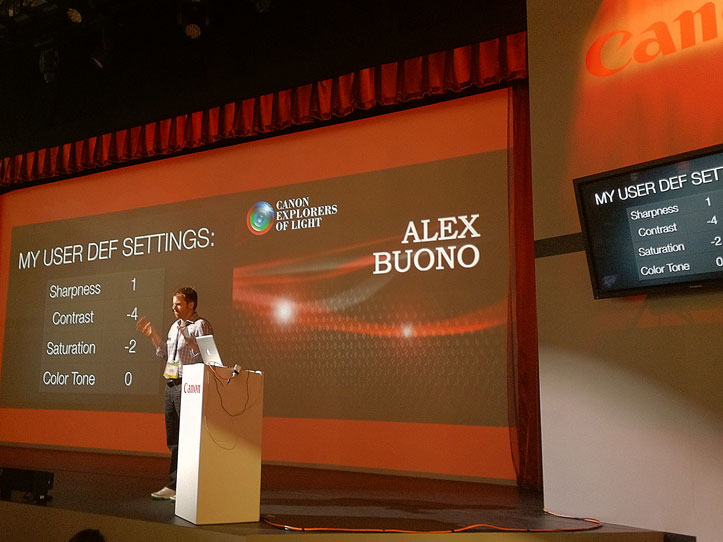 Sigma were also just around the corner, proving that size does matter with their 200-500mm f/2.8 lens (which comes with a "free" 2x extender for 400-1000mm shooting).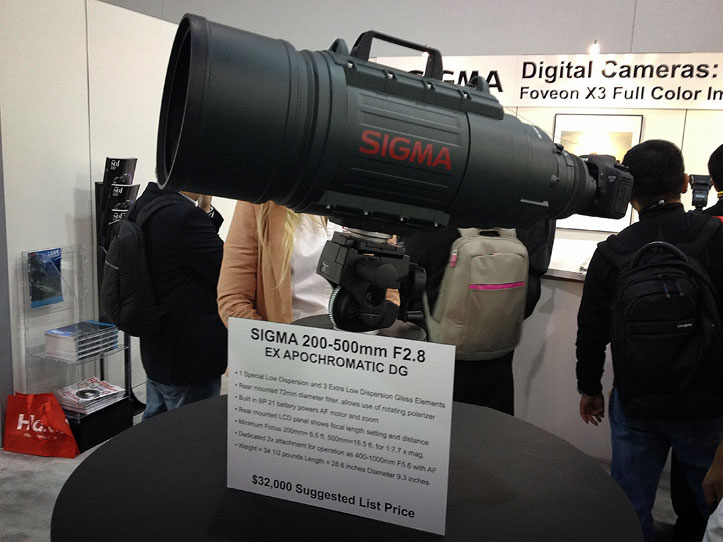 – and yes, that's a Canon EOS 7D body hanging on the end of that monster. Although, for a lens worth $32,000/£16,000 – I'd say it's in about the right ratio to the camera body 😉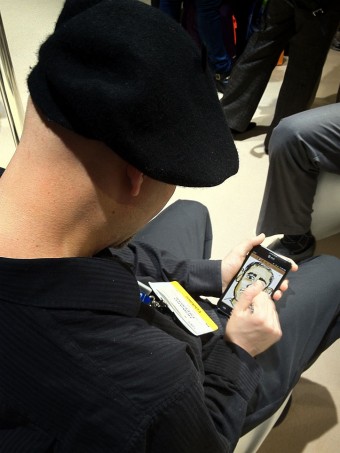 The big noise in terms of advertising around Las Vegas was the Samsung Galaxy Note – it was launched at CES this year. As an Apple fan-boy, I have to admit it hurts to say they have released a fantastic product, and one that may indeed steal some of Apple's market share.
Not quite a tablet, but larger than a phone, this "toy" doesn't come cheap (around £600-700) but has a stunning display and is just the right "in-between" size for lots of handy applications. How it will fare with photographers, I'm not sure (I still think the iPad wins for displaying images) but the guys were out to prove a point with customised T-shirts being made from caricatures drawn on the device…
Moving on, and into the realm of "gadgets" there were quite a few toys to take a look at in the innovation area of the show…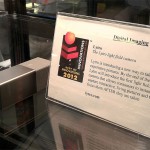 First up, a company I've been following for a while – "Lytro".
These guys have been around for a while, following a lot of heavy research into Light Field technology at Stanford, and it's great to finally see their efforts come to life in the form of a product. Imagine – a camera you can focus AFTER the shot is taken? OK, it's not up there with SLRs or Medium Format cameras quite yet, but you can see where this is going…!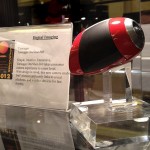 Keeping on the same theme – how about a camera that can take a 360 degree image in one go?
Just hold the Tamaggo device above your head and click. You can view, share, and move around your 360 degree panoramic image online with ease. Just as the Lytro, it's not currently offering amazing resolutions or anything, but as a concept, I think this could be a winner…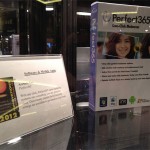 Finally, one more thing that caught my eye in there – "Perfect 365" from ArcSoft.
At first, I dismissed it as yet another "one-click photoshop" attempt (hint: they never work – they just make people look plastic!) but on further investigation they've gone a little further…
Yes, it will absolutely give you a reasonable retouch of any image, but the "killer apps" (to my mind) are the iPad and iPhone versions. So, I downloaded it for £1.49 to give it a go. No, it's not perfect – and yes, you can make someone look very silly, but in essence it works – I can now photoshop pictures of people that I take on my iPhone (even drunken ones!).
Back out to the main floors – and on to the Venetian from the Convention Centre, the PMA held their photography show within CES this year – so we had to take a quick look. The usual suspects were around – Tamarac, Nik Software, Topaz Labs (who offered a great deal on their entire suite at the show) etc, but two things caught my eye as a little unusual…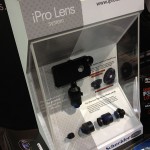 We've all seen the (sometimes horrific) attempts by companies to improve on the iPhone's built-in camera – including the "mount" for a DSLR lens which allows you to plant your iPhone's sensor at the end of a 70-200L lens if you really want…
But this package from iPro Lens is different. A neat little setup, with a variety of lenses, and I have to say the image quality we saw coming out of the kit was a radical improvement on the iPhone's standard lens. Having a wide-angle option for the iPhone would be great for festivals, etc – and the fisheye is fun for quirky effects.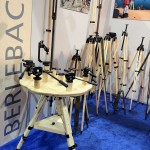 From new, to very much "retro"…
Berlebach had a stand full of wooden tripods. Now, I know a few old folk who will remember using these "when they were a kid" etc, but I have to say, I love the feel of them. They somehow manage to take the cold, hard, black metal and plastic body and warm it up with a bit of nature. The only concern for me? Well – I can't see them lasting very long when they go flying down a cliff with me and my camera gear to a beach below… 🙁
Successful trip? Well, the photo show was only a tiny part of what we went there for (in fact, the PMA show was a complete surprise) so I didn't really get to spend much time looking, but from what I did see, there are some cool new products heading our way soon and definitely an exciting time to be looking at buying new gear. Who knows, with this light field stuff on its' way to an affordable level, maybe the days of DSLRs (and even the latest mirrorless models) could soon be numbered…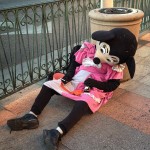 I'll leave you with one of my lasting memories of that afternoon. We left the Venetian hotel to find someone who looked how our feet felt, complete with cigarette and beer bottle. Walt Disney would be proud…
🙂