I must have been promising to upload more pictures from our trip to Thailand for about 5 months now – well, I finally got around to it!

Since the first post I made about Maya Bay (on Koh Phi Phi Leh), I've been meaning to sort through the hundreds of images we took over the two weeks out there and it's embarrassing to say that I have just managed to do that. That said, I did have a lot – our trip went from Bangkok to Koh Samui, to Phi Phi (via Krabi) and then on to Phuket. However, rather than turning this post into a vacation-slide-show of places I saw, I figure it's best to simply give you a sample of a few of the images I remember most, with where they were taken. With that in mind, here we go…
That first picture – it's the fantastic Tuk Tuks that bomb around in all different forms throughout Thailand (and a lot of the Far East beyond) – these ones being found just outside of "Wat Pho", a famous temple in Bangkok where you can find the incredible reclining Buddha (yes, it's 150ft long and about 50ft high!):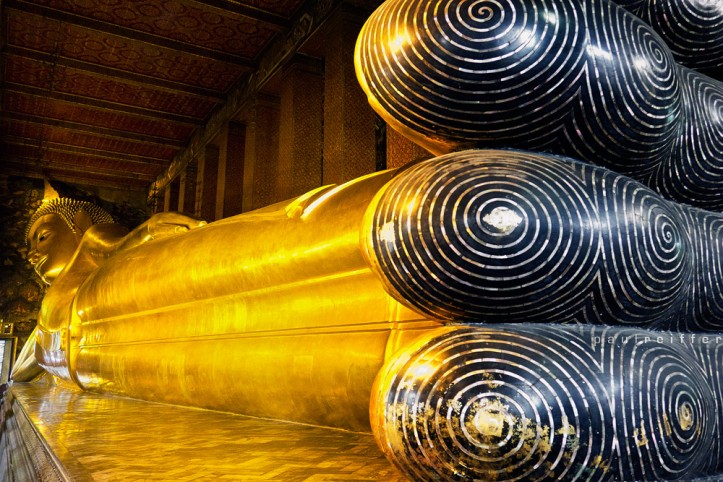 Within the temple grounds, naturally, there are many other amazing things to see, and to think of the amount of precious metals and gemstones used in creating these features is just awe-inspiring.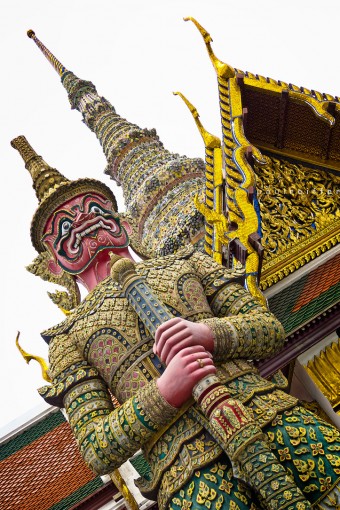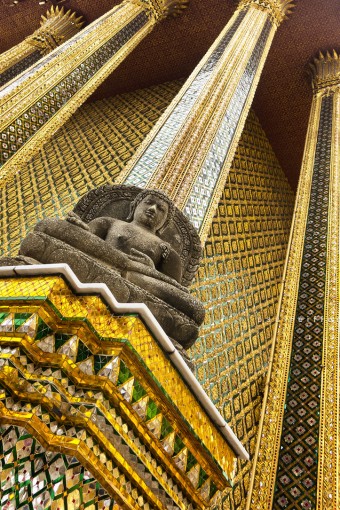 While I got a few of the "standard" views of the temples, I also played around with a couple of more abstract perspectives, too…
On from the temples and the fantastic hospitality we received from from Kit at Bangkok Food Tours, it was a quick ride from the bustle of Bangkok to get our plane to Koh Samui. (Although not before snapping another final image of those fantastic Tuk Tuks!)
To say Koh Samui is a contrast to Bangkok would be an understatement.It's absolutely idyllic, and we were so lucky with the weather for the time of year as well, it made our stay there the most memorable of the entire trip. That image above is the view from the pool at dusk, where you can sip cocktails until the early hours, enjoy private dining on the hotel's private beach. It's also where we met one of the most amazing people in Thailand, Supit (the general manager of the hotel), who gave us a "to-do" list, starting with the "Big Buddha" on the island, as well as a visit to Wat Plai Laem with its temple, new (and massive) "laughing Buddha" and catfish lake, not far away: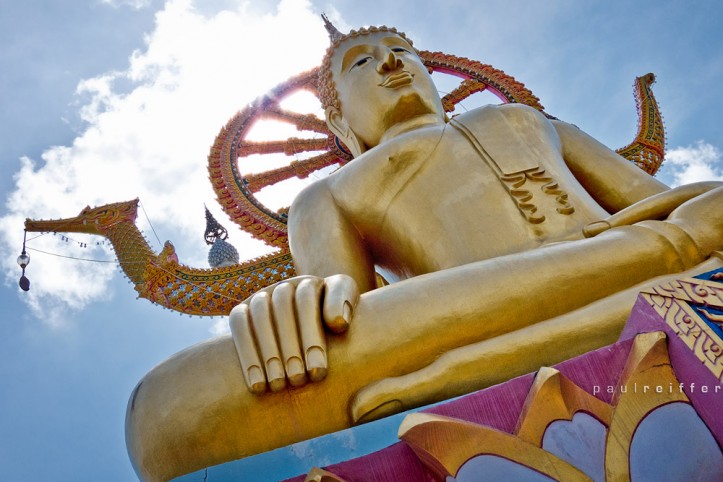 It's strange, having visited so many countries in my life, Thailand was one of the few where I have kept in touch with people I would now consider friends, that I met out there. The type of people I know if I needed help there any time in future, they would come. It's hard to describe, as so few places and cultures have people so genuine any more – but this place really is special. The next place on "Supit's list" was Ang Thong National Marine Park – a speedboat ride away. What an amazing place this was as you cruise around between the islands, stopping to snorkel in perfectly clear blue bays and even kayaking around some of the more obscure landscapes (yes, we kayaked around and under that big rock standing out from the water!)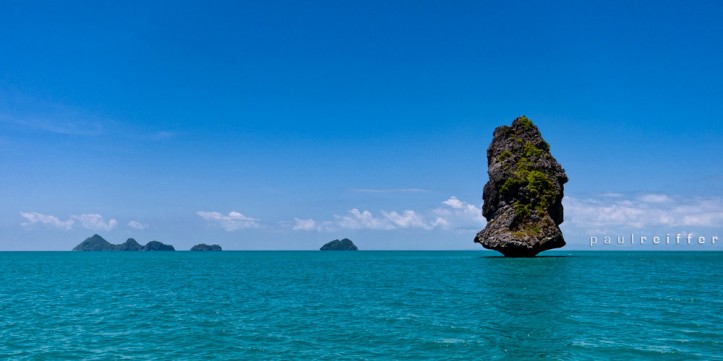 Sadly, but luckily, we didn't do this trip by Long-Tail boat – but this was the first place we got a glimpse of just how many of the islanders get around. Oh, and one of my favourite parts – we got shown around "King Kong Island" (can you see what it is yet…?!)
Sadly, after a few amazing days in Koh Samui, it was time to head out again, via a flight to Krabi – a taxi journey from hell, a ferry boat to Phi Phi Don's port and then a long tail to our resort. In the interests of not repeating myself, Phi Phi is where you'll find "Maya Bay" (the setting for the film "The Beach") – more of which can be found in the post I made about Phi Phi Leh a while back.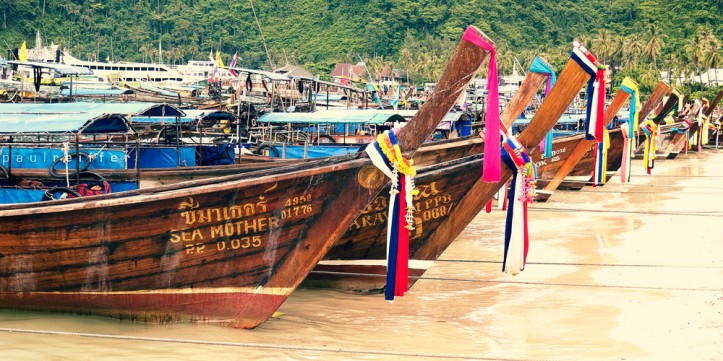 Moving on from Phi Phi (we actually left a day earlier than planned as weather had started to set in and that left very little to do…!) we got the backpacker's ferry-boat to Phuket, our final stop. Patong Beach is a hideous resort, and I'd advise anyone against going there if you want to see Phuket. That said, having learned this, it forced us to get on a scooter one day and explore a lot more of what Phuket has to offer, including some fantastic street food, crafts, and scenery.
By now, we'd realised that every big town in Thailand seems to have its own "Big Buddha" – but it's fair to say this one seemed to be the most impressive, going so far as to call it Phuket's "Giant Buddha". Still under construction, at 150ft tall, it's an amazing sight – and from the top of the mountain it's built on, you can see the entire island as well as the unspoilt deep blue sky above. Well worth the £2 we spent renting a scooter for the day!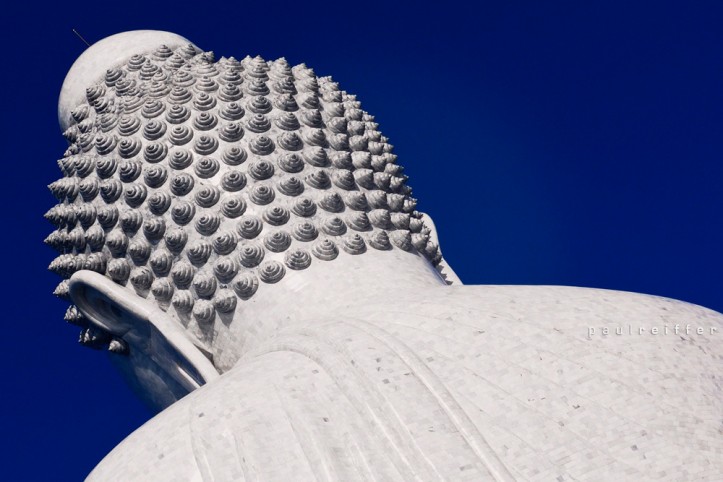 On the way back, on our last night in Thailand, a quick google revealed that we weren't too far from Phrom Thep Cape – a destination for sunset worshippers across the island. (Stupidly) expecting a quiet lookout point, we were surprised to find coach-loads of tourists parked up along the entire length of the hillside, all waiting for the sun to drop. Sadly, it hit could before it made it to the horizon, but I'm still happy with the last photo I took in Thailand anyway…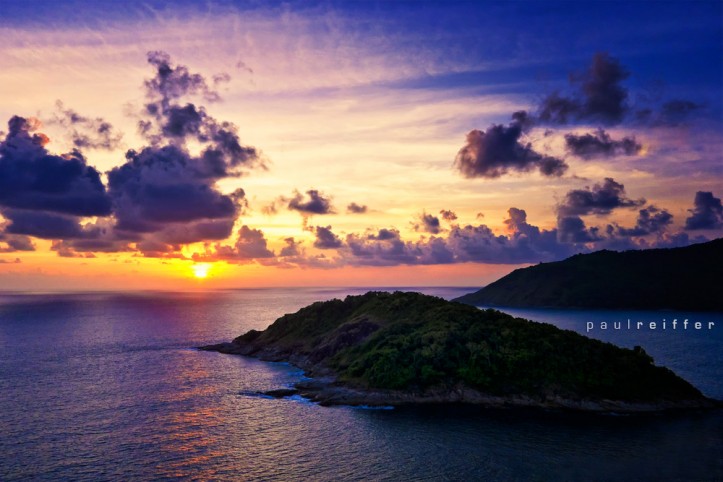 So that was it – a sample of the shots I took in Thailand this year. And the cool thing? They were ALL shot with my tiny little Canon Powershot S90 – no DSLR in sight! Granted, they were shot in RAW, with some setting tweaks, but it just goes to show, sometimes you don't need a rucksack full of lenses to capture the images you want 🙂 Hopefully that's at least given some of you a feel for what it's like out there, although if you haven't been, you really do have to go yourself to appreciate how great this place is. We're certainly heading back soon…