Ashamed as I am to say it, given the amount of time I spend in and around Dorset, I've never once photographed Corfe Castle. It's just down the road, and hundreds of thousands (if not millions) of photographers have captured it already, but for some reason, I've just never gone.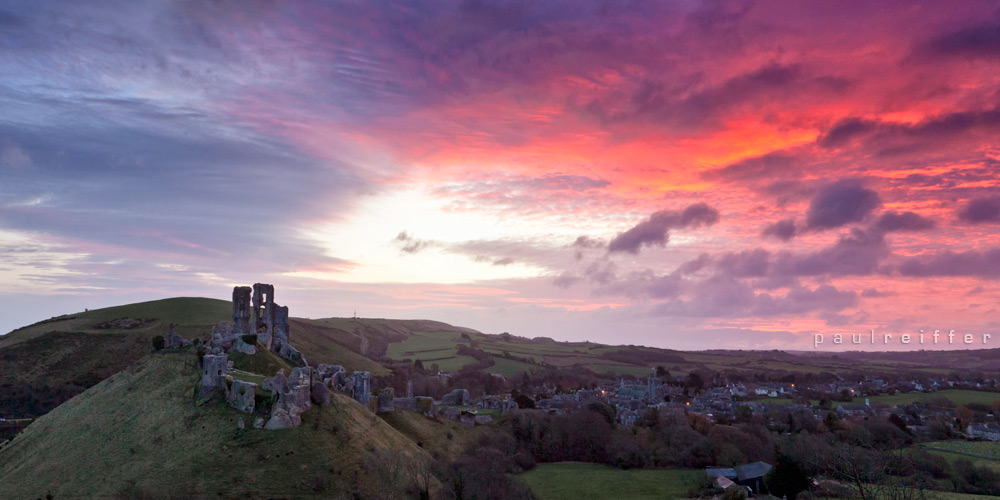 So, with the sunrise now starting at a reasonable hour in the middle of winter, I decided to give it a try. The only problem is, I decided to try it this morning, last night. Having never been there. For those on Facebook, you'll now know why I was rummaging around for my head-torch. The good news is, the image above was taken this morning – so yes, I got a shot. The bad news? It's not quite the shot I wanted, and it wasn't exactly easy to get when planning started at 6:30pm last night in the dark.
A couple handy hints:
Use Ordnance Survey data to find where

exactly

you need to be standing
Read the maps properly (google won't do) – you need gradients to work out heights
Try scouting locations in the daytime
Take a look at the Azimuth iPhone app – a most excellent tool I wish I had ages ago
Into the night, I drove – and got to Corfe Castle itself pretty quickly. The problem is, that's no good for photographing the castle itself! So, having already looked around on google earth/OS data, I made my way on foot to "West Hill". On a map – it looks simple: on the right hand image below, the blue dot is where I got to last night, the red dot is where I ended up this morning. The problem is, in reality, that's a heck of a slippery, rocky, hill to climb up in pitch black (especially if you've never been there before) when all you can see is as the picture in the middle – yes, not a lot!: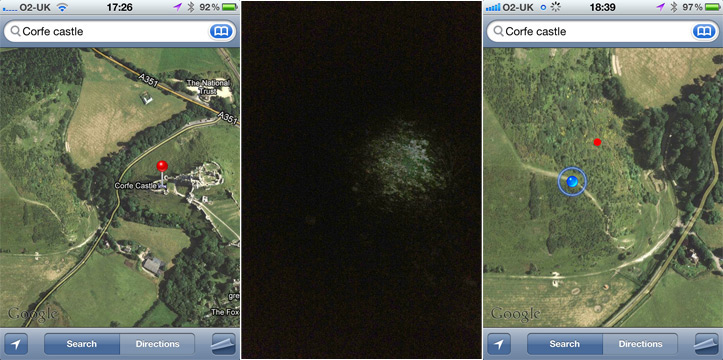 Anyway, I got there. WOW it was windy up there last night, but the sky was clear. I could see corfe, and had an idea of where the sun would rise, but figured I may as well try for a night-time shot while I was up there. With frozen fingers (not helped by a metal tripod and a bottle of diet coke) I got my camera out, and set it for a 30 second exposure…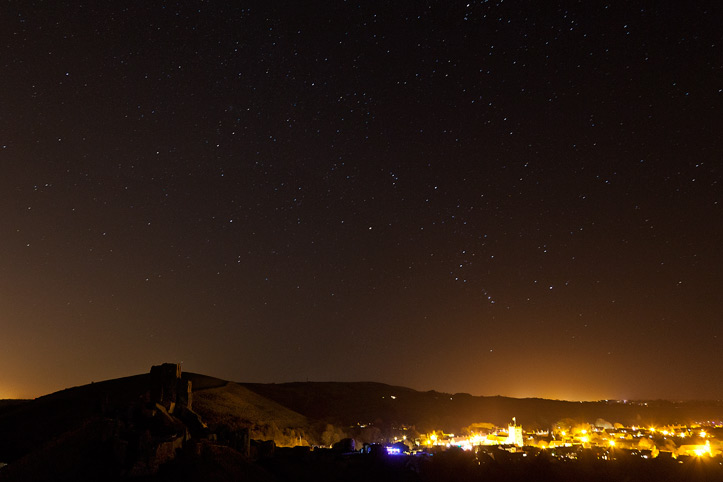 Surprisingly, the camera delivered. Naturally, the darkness surrounding the castle is distracting, but I was also experimenting with a new toy I'd just purchased – a screw-in, 77mm ND Grad filter. Normally, a 30 second exposure with the night sky against the bright lights of a town would be a problem, but flip that filter upside down and you get the above – result 🙂
The morning arrived, and 6:30 on my alarm clock meant I should be able to get there easily in time for the sunrise. Weather was forecast to be cloudy from 9, but clear beforehand – and I had my new "Azimuth" app 🙂 : Not only can it forecast sunrise times from wherever you are, when you actually get there, the compass can give you exact locations and "time to sunrise/sunset" for accurate planning. Cool!
Unfortunately, what I hadn't planned on until this morning is that the sun wasn't going to rise where I thought it would using just my compass last night – it would be further to the south. Great, and I didn't have much time. So, another "handy hint": don't run through brambles and thorny trees in the dark, in a hurry; yes, it hurts. Anyway, getting to the "little red dot" on the first set of maps, I set up and saw the sky slowly turn into the pre-sunrise red: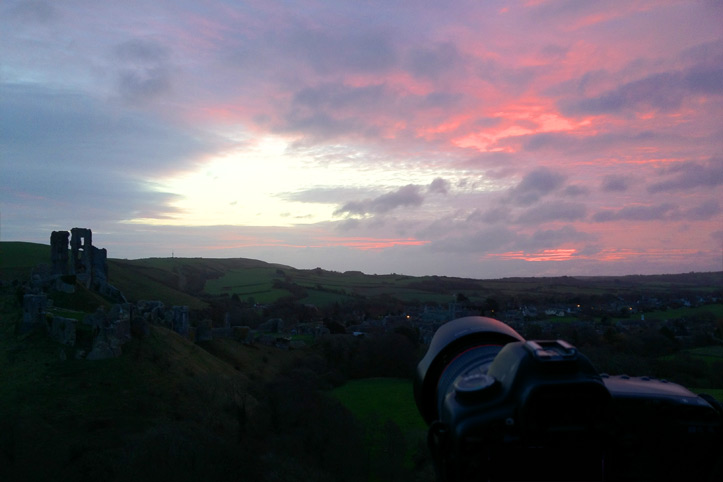 This cloud-show lasted for around 5 or 6 minutes, and I got snapping. Using that new screw-in ND grad filter, I managed to capture the sky's detail while still grabbing enough light to illuminate the dark ground in front of me. I was pretty pleased, this was looking good – and then the worst happened. The fantastic red clouds quickly became nasty, dull, boring, grey ones – obscuring the sun 🙁
By the time the sun was up (and this was 5 minutes after), it was only flat light left. No atmosphere (no mist), no nothing.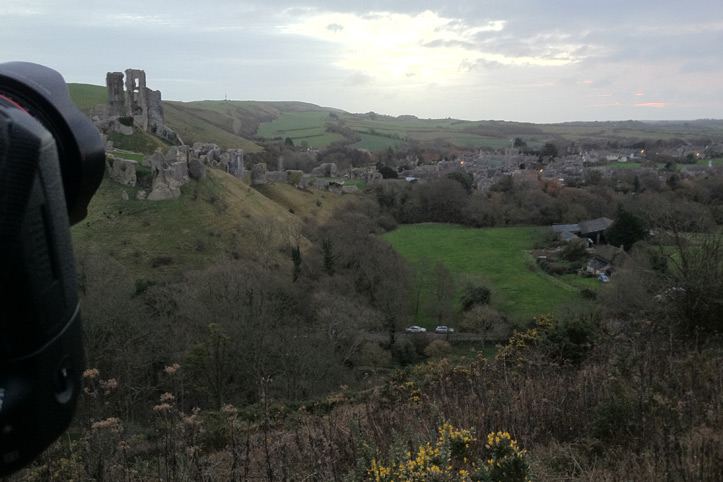 On the positive side, however, I now know exactly where to go (and how to avoid pain – it turns out in daylight there's a much easier route to where I was stood!) the next time I feel like getting up at stupid-o-clock. In the meantime, at least I got something out of this morning – my red sky in the morning…