For those of you who read about the trip I made in the summer to Antelope Canyon in Arizona, you'll realise that I got a little bit fascinated with "Slot Canyons" as a result. So, with a rather frustrating start to a well-needed break in Sharm-El-Sheikh (without going into detail, I wouldn't recommend the place, ever!) we took the opportunity for something a little different by getting int he back of a 4×4 and heading out to the "Coloured Canyon" in Sinai. I only had my Canon S95 point-and-shoot on me, but I figured that was better than nothing 🙂
First stop, was the place I got one of my favourite pictures of this whole trip. In order to enter the canyon, you take a Bedouin Guide with you, and you stop just outside the off-road trail to pick one up. The only thing is, you can't just pick one up, you have to have tea with their family first! So, sat on the floor (and as someone who ONLY likes Diet Coke), I followed the ritual, but also snapped this of the father with his small child preparing the sweet tea for us all: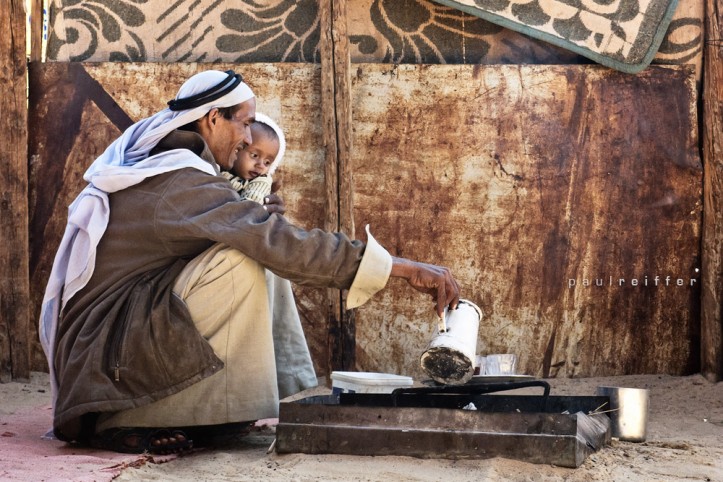 It's one of the first "candid" tourism photos I've been genuinely happy with, and the fact I caught the child smiling was an added bonus. After the tea, of course they took the opportunity try selling a few things to us – sadly, none of them looked appealing enough to buy, but then I have to admit I got caught out…
The mother of the child ran over to me, asking me to take her child's picture with her. Thinking I was doing her a favour, I snapped the shutter. THEN realised what it was in the child's hand – that's right, 10 Egyptian Pounds. Ahhh, that's the "fee" for taking the child's picture. For the sake of £1 back home, I wasn't that fussed, but I do wonder how many people fall for that one…!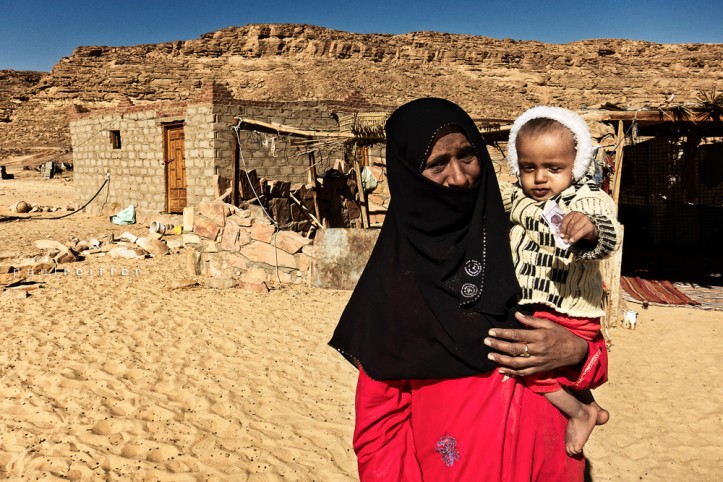 So, with tea and family photography out of the way, we collected our guide (who didn't talk much, it has to be said!) and drove to the entrance of the canyon. Worryingly, he had a rope with him, but we thought not much of it. From the canyon entrance, it was a small climb up and a short walk across the plateau of rocks.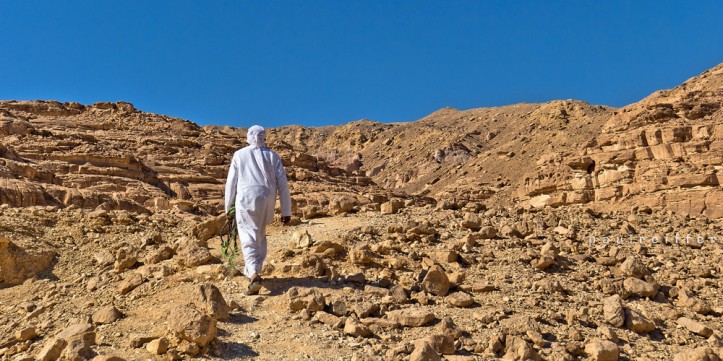 We were informed never to pass the guide, and that one of our other Egyptian guides should be between him and us. All very strange, but hey, we were out in the middle of the desert, having passed through around 10 armed check-points during our 2.5 hour journey, so there was no way any of us was going to argue!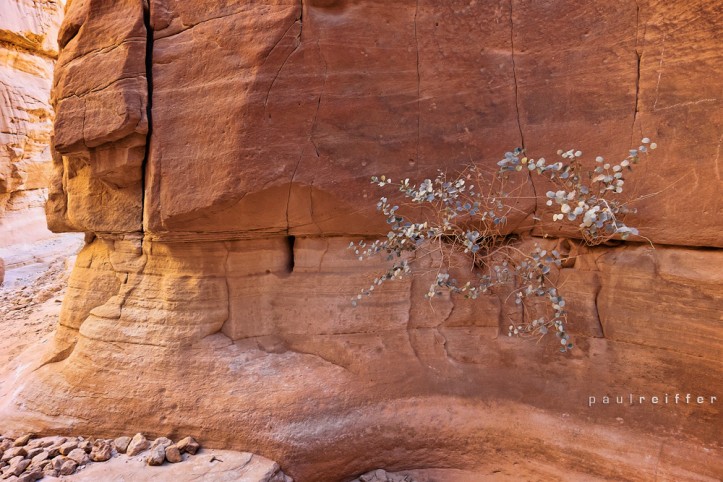 Entering the canyon, you notice the differences between here and Antelope. Strangely, while it is a whole lot less accessible than the canyon we visited in Arizona, I have to say it was also a whole lot less exciting 🙁 – quite cool though was the fact that random plants and trees literally grow out of the rocks in this place.
To get into the actual slot, and very unlike Antelope, you literally have to slide down between the rocks to long drops beneath you (NOW we got the need for the rope!). Yes, rather unprepared, we were canyoning between and under boulders, through narrow gaps created by water thousands and thousands of years ago which really made this quite unique.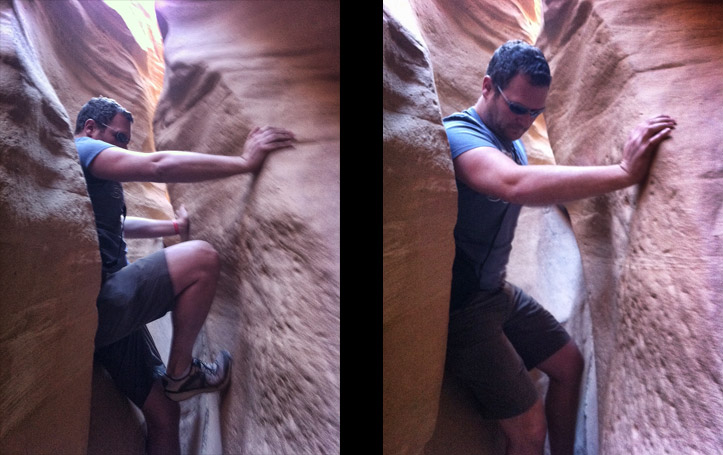 Unfortunately, that's where my excitement stopped. While the canyon is full of colourful rocks of many kinds, it just does have the same "cave" feeling as those in Arizona.
To be honest, I was a little disappointed as the place is billed as "one of the most magnificent rock formations in the world" – something I can't honestly say is true.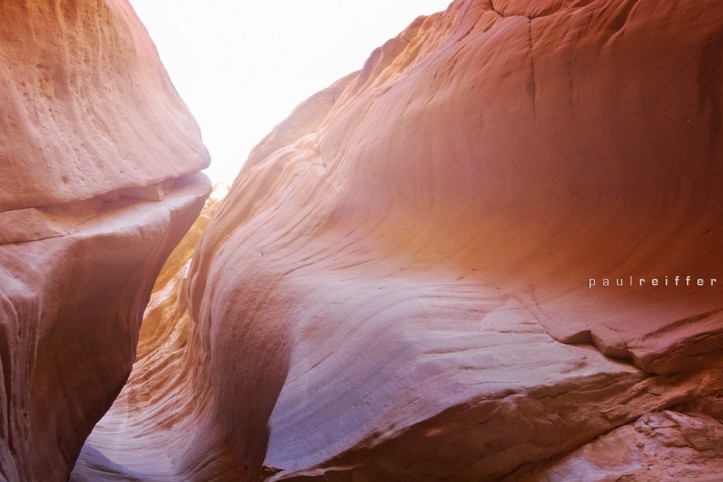 I also found a limitation with my S95 – it really struggles with metering for high contrast exposures – such as that above (granted, I didn't have any filters on it!). But I simply couldn't get the right mix of sky and rock detail at the same time, something that I know my DSLRs wouldn't have a problem with. It seems, even shooting in fully manual, something in there isn't quite up to it.
For me, walking out of the canyon was, in some ways, more impressive – we had a sense of achievement from getting through the slots themselves, but also looking all around us, you could see more and more rock formations taking shape as wind and rain carved into the desert mountain side.
Worth getting away from the tourist-hell which is Sharm for the day? 100% yes.
Worth going to Egypt for, specifically? No – save your money and head to Arizona 🙂
Anyway, off to Cairo on Thursday (another way to get away from the Blackpool of the Red Sea for a day!) so hopefully I can grab a few more of those candid shots there – I hear things are a little exciting around the square at the moment!