There's a jetty that sticks out into The Fleet in Dorset which has featured in many, many photographs but I never quite got around to finding out where it was. That is, until a friend of mine – Nick – asked to go out shooting for the afternoon to try out his new Canon 5D/II on some landscape shots around Dorset.
Given the choice of more retouching, or maybe getting a nice new sunset shot, the landscape afternoon won – and here's the shot I got: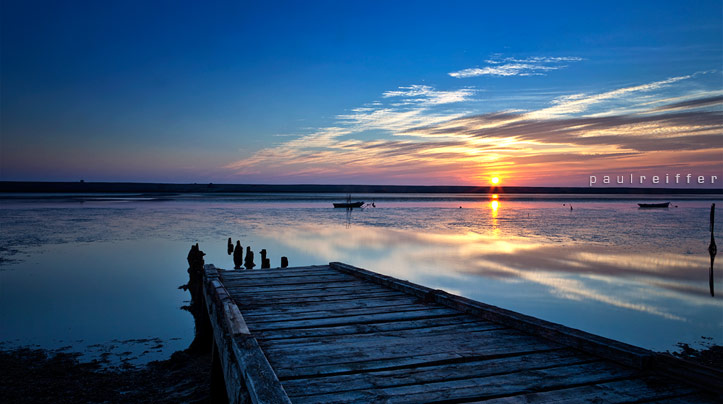 Tracking this jetty down was a bit of a pain – but then Google maps came up trumps. Section by section, I followed the coastline up (I knew it was in The Fleet as the sunset shots I saw had the chesil beach bank in the distance) and finally got to it – at East Fleet. A quick search from there came up with the goods – including the exact location and proof that it was the right one! East fleet farm is also a campsite, but it turns out this jetty is a bit of a haven for photographers around the area and having been here for years, I'm amazed I didn't know that!
Did I get the shot I wanted? No. Sadly, the tide wasn't high enough to get the sunset shot I really wanted.
Did I get a shot I like? Well, yes I did. It's not perfect, but I'm happy enough with it and the line of clouds that fell in symmetry with the jetty below was a great bonus 🙂
We did wait for the moon to come across but at the size it was and with the tide going out, I guess that's one to try next time I pop down there. At least I now know where it is 😉
Now, back to that retouching (and to wait for Nick's results from the evening)…