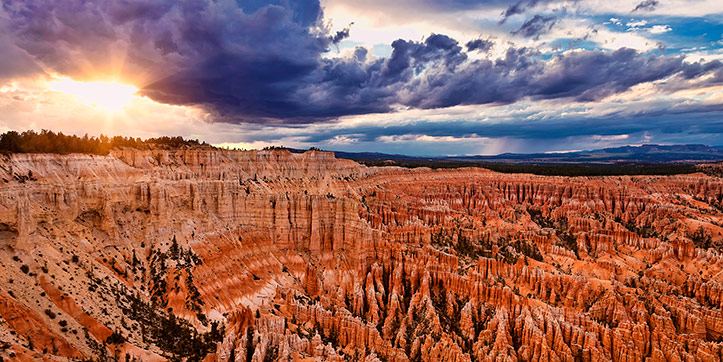 "Bryce Point" – Print available to buy now
Welcome to Bryce Canyon National Park – the last of the 5 parks and canyons I visited in August, including our trip to the amazing Antelope Canyon in Arizona (yes, I'll upload those photos soon too!).
Last year, I visited Joshua Tree National Park in California, and captured images that are now in use by the National Park Service (NPS) for their brochures and guides. So, following on from that, I set about capturing other areas covered by the National Parks network – finishing at Bryce Canyon in Utah.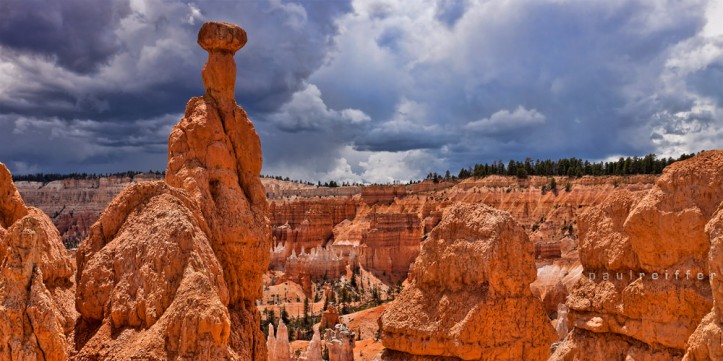 So,what's with the word "hoodoo" in the title? Well – you see those tall pillars of rocks? They're hoodoos! Weird rock formations which stand like matchsticks ready to snap and fall at any time. I say that, but of course we're looking at them from a distance. To get some sense of perspective on things, take a quick look at the full-size trees on the right in comparison to the rocks in this close-up: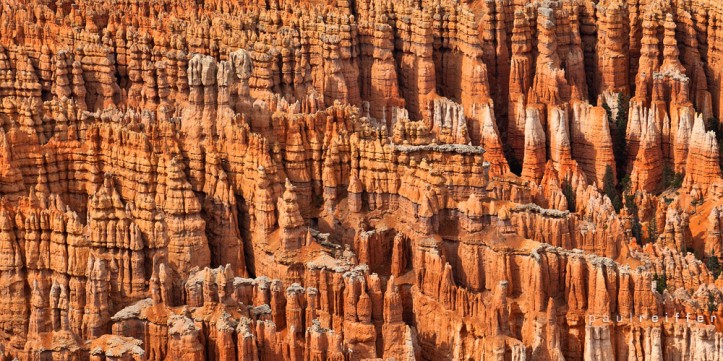 So, we now have a sense of scale – how about the weather? Well, that caught us completely off-guard. You see, it had been HOT the whole time we'd been touring round (and in fairness, when we arrived at Bryce it was hot as well… for 5 minutes). You see, the Canyon has its own weather – literally. We were there for the afternoon and experienced thunderstorms, torrential rain, 30 degree temperature swings, blistering sunshine – all, several times throughout our visit. If you DO go, be prepared… we weren't!
In fairness, this arid desert really comes to life when a storm's brewing – and I guess that's why so much wildlife lives in the park. I think, in our few hours there, we must have passed one of these squirrel things every 5 minutes – there were more of them than us!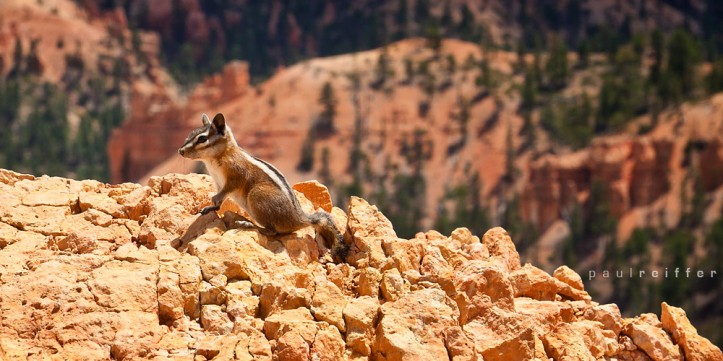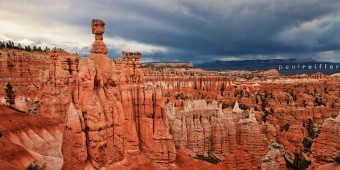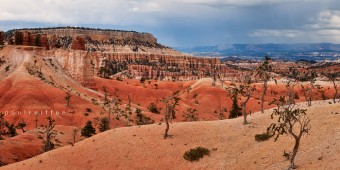 So I guess everyone knows that the "killer time" to capture landscapes is either sunrise or sunset? The shadows are longest, the light is soft, the "feel" of the photograph is warmer and let's be honest, they just look cool. The very first (top) image in this post is what we got of a sunset at Bryce Canyon. It's a tough one, as the mountain blocks the sun as it's dropping, so to get a "nice" sunset means putting up with a lot of disappointment over a lot of days. As we didn't have enough time for that, my best attempt was that shot. Having said that, what IS interesting in the park is what happens to the hoodoos as the sun hits them: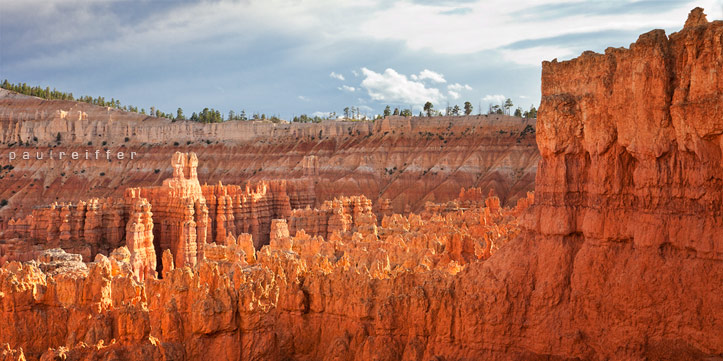 They literally "light up". And that's not all – look at sunrise – it has them glowing beneath you as the sun hits the caverns: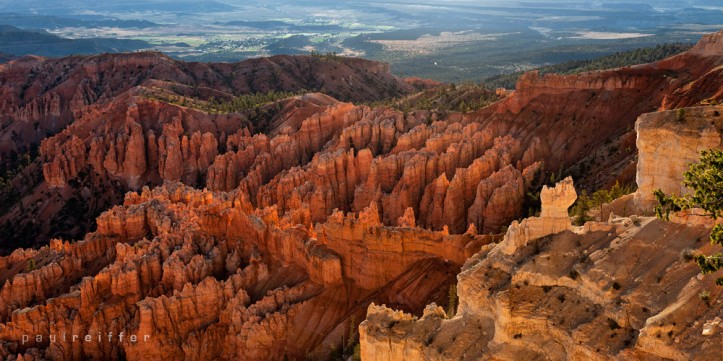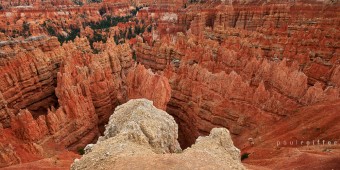 Overall, you CAN get sick of seeing hoodoos. On first arrival to the park, it's "wow". After a while though, they get a little annoying – they're everywhere you look. Photographically, it's a tough shot – with SO much going on in the shot, it's difficult to find the balance between getting it all in focus and keeping the viewer looking at the exact thing you intended them to see.
Oh, and as the picture to the right shows – get on top of a hoodoo and I'd suggest not looking down – that's a long way to the bottom!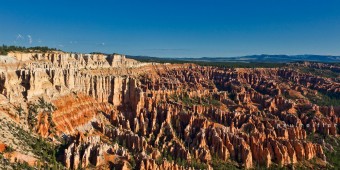 I'm hoping I did enough to give an impression of the park that does it justice – and I'm glad I got shots such as those from Bryce Point at the right time. Case in point, here's Bryce Point at sunrise, not sunset. Look at the top image of this post – same place, but it's nowhere near the same shot 😉 :