As part of my "flying visit" to New York, I shot three male models at the Empire Studios – ran by its fantastic owner Romeo, who is also a very accomplished artist. Working with Chris as our session's makeup artist, and Ben assisting, we shot from 10am through until 4. First up – PJ: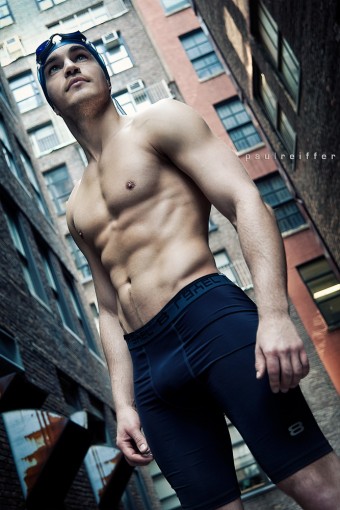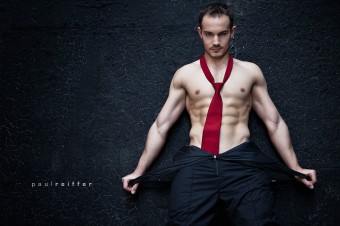 Shooting a mixture of images on the roof as well as the studio – we worked with a variety of setups to add something different to his book. Born and raised in Ukraine, PJ moved to the US 10 years ago and lived in London for a few years in between. As someone who's looking to move into fitness modelling, these shots were all about the body (with a little bit of weird styling thrown in 😉 )
Next up, Paul Osei sat down in Chris's capable hands to start the make-up process. Born and raised in Africa, Paul had a real itch to make his mark in the modelling industry. He runs track & field as a sprinter, so I was keen to make use of those "funky" flourescent shoes which Chris co-ordinated with some funky eye-makeup for one key fitness look.
Heading back into the main studio, we also made use of the fantastic light that shone through the huge floor to ceiling windows, so we "cleaned him up" a bit and shot the image below – I'm amazed how much light poured around the room. Even though it was bright outside, the position I placed Paul into would normally have cast him purely in shadow – but with the bright walls bouncing the sunlight all over the studio, this look really worked.
Finally, ChrisJon hit us for the afternoon session. A Filipino, based in Queens, NY. He was fairly new to modelling but apparently has always had an interest. With a strong book already, he was looking to add some different styles to the "standard" work. Coming from a very athletic background, he certainly has the body to be a strong fitness model – this was all about getting some more images that would expand his book to prove it.
Again, moving between the roof (which was now in scorching sunshine – to the point where the felt was melting up there!) and the main studio – this time with all of the window coverings removed, we grabbed around 6 different looks – two of which are captured below:
My favourite image from the day? Probably the last shot of ChrisJon against the windows. I just love how the light wraps around him – this was done with *no* fill flash, no reflectors, no "tricks" – just the pure light falling through those huge windows and I think it really works.
At the end of the day, this was a small selection from the many looks we captured on the day-long shoot, many of which will slowly make their way into my guys portfolio – but for now, hey, at least you got a quick preview 😉