That, there, is a bead of my sweat. It's fallen on my yoga mat after participating, willingly, in one of Vic's online sida yoga sessions.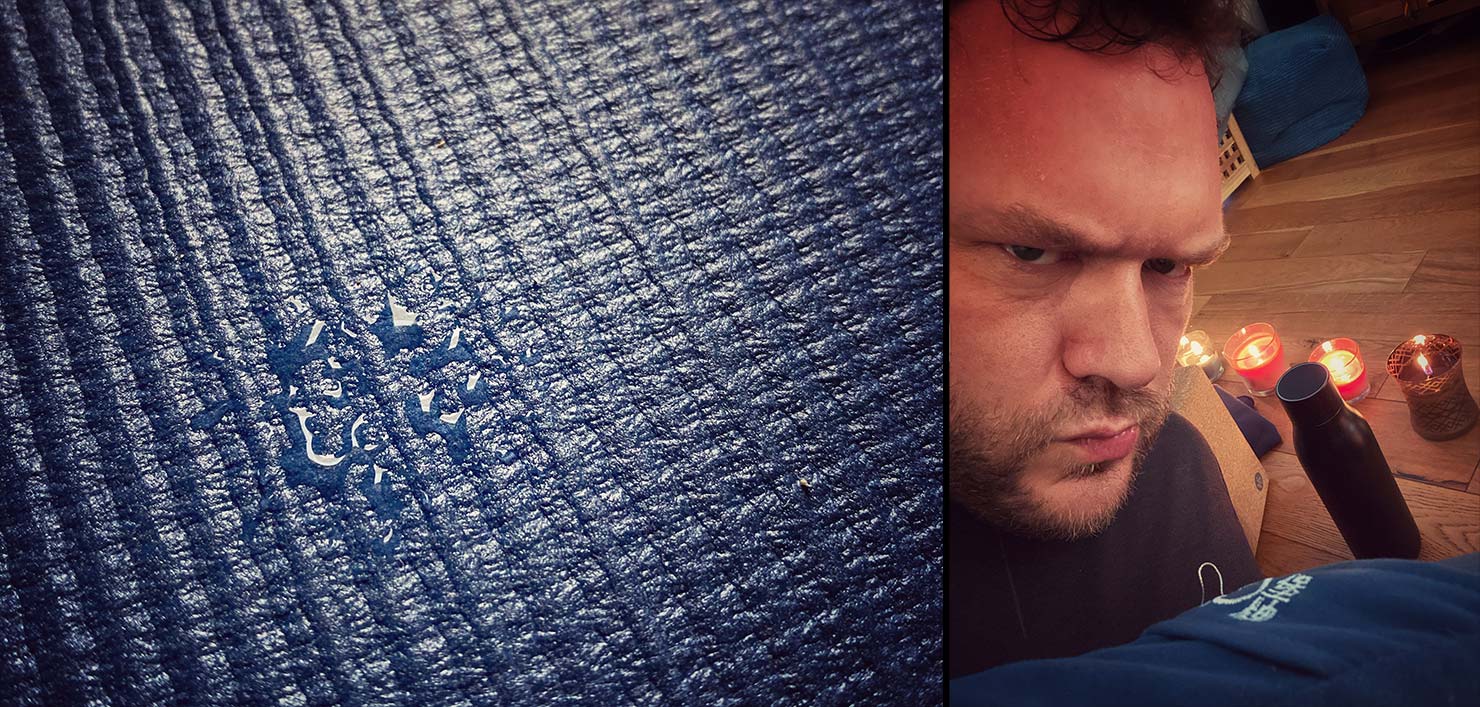 And for balance, here are some other things I never thought I'd be saying, if I went back to a year ago today:
My elderly relatives are proficient in "Zooming", and how to "connect to audio".
I've managed to make a tank of fuel last 4 months.
I got quite good at moving around in a wheelchair.
It's apparently normal at my age to "have a chiropractor".
I miss Heathrow Airport.
I do yoga three times a week. – Wait – WHAT?!
Yeah, more shocking than the wheelchair one, right?! – Yoga for photographers
So what changed?
I mean – for years, yoga for me has been one of those things I've kept very much at arms length in the same way I've resisted the urge to inexplicably start humming, or working out how to pull off a "man bun" as a hairstyle.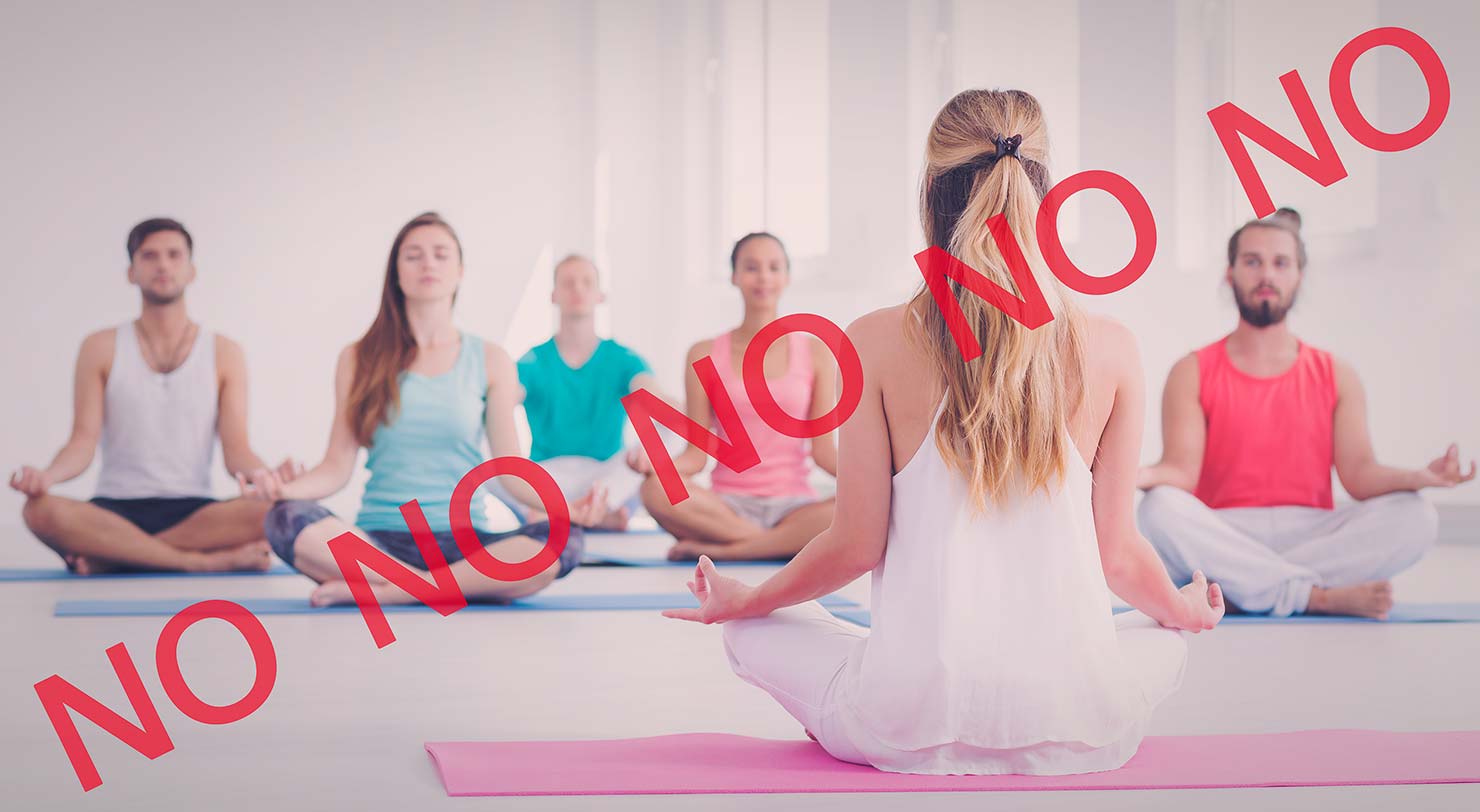 And the simple answer:
I broke my back.
This time, a year ago, I was unable to get into the car. I was unable to sit, lie, stand, actually be in any position without writhing in excruciating pain.
Why?
Well, while we still don't know the exact culprit for the "final straw", it seems it may have been something to do the with decades of abuse of my body – carrying up to 23kg of kit on my back every week through airports, locations, all around the world (yes, my "hand baggage" was the weight of your suitcase). And in fairness, carrying way too much on my front, in the form of food, too!
So after some intense work on my back – I did the obvious (for me) and ignored the advice to not go travelling with Vic to Bali.
For those of you who've been in touch with Vic before – not only is she responsible for the "business side" of me (as well as a pretty good BTS shooter!), she's also an extremely well qualified international yoga teacher, and this was the one trip of the entire year that was purely for her to focus on her thing for a while with some further training. There was no way we were missing that.

Now, while I cannot ever imagine the reality of what it's like to be living in a wheelchair on a permanent basis – what I DO now know is that I found it unbearable for the time I needed one.
For someone who knows Heathrow (and, in fairness, most other international airports) like the back of my hand – feeling helpless while being literally pushed around with no say in anything was brutal. Add to that, the fact I was in constant agony (and yes, low pressure onboard makes it so much worse), those 20 hours of flying didn't seem like such a good idea after all.
The buggies that I've found FUN every now and then as a random "VIP" in transfers were beyond painful.
The process of getting through security, horrendous. Even things like waiting for bags with a porter after the flight with people literally pushing my wheels out of the way to get to their bag 2ft earlier – it all added up to a genuine reassessment of how I may have unknowingly behaved in the past while on two feet myself.
Anyway, we had Bali to get to – and Vic provided entertainment to the grumpy old man who was unable to find the humour in many things at the time!

Finally getting to the resort at Maya Ubud, I didn't have the energy to take even one more step.
…only, I needed one. Or twenty. While the wonderful team at the resort had put us in an absolutely stunning private villa designed for a party, it needed 20 steps up and down to get into it!

I was trapped, "in paradise", for a week.
Being ushered around all day in a buggy sounds fun – it's not when you're in constant pain.
Living in a villa with a huge private pool, amazing facilities, and stunning views is incredible – if you can make use of them.
Being in Bali where they can try alternative massage techniques or "Bowen therapy" is fantastic – if any of them actually work (they didn't).
Having all three meals a day delivered to your room sounds amazing – unless it's impossible for you to get to the door each time.
…and while sweet, when the charming room service lady you speak to every day notices that you've called for your lunch "an hour later than normal" – it can feel a little depressing!

On a positive – the place was STUNNING, the food was incredible (they almost got my eggs right!) and Vic's yoga course apparently went really well too.
So, back down the ridiculously bad roads to catch our plane home, and it was time to get planning the next trip (and the logistics of how on earth we'd manage it).
Over the 2 weeks that followed, seeing chiropractors and even trying acupuncture ("you won't feel a thing" – YES, you will), I slowly got about 20-25% better in my back. I got to being able to use a walking stick for shorter distances, but I had a Morocco trip ahead that was getting ever closer.
And, stubborn old me, I was going to make it.
Again, I love it when hotels pull out all the stops – but as those who've visited Chefchaouen before will know – this entire location is built on a hillside with no roads to the hotels.
As such, when you're already broken from walking a mere 250m down ancient steps, the final excitement at being put in the (stairs only) rooftop room of the riad was completely lost on me.
Great view; broken Reiffer.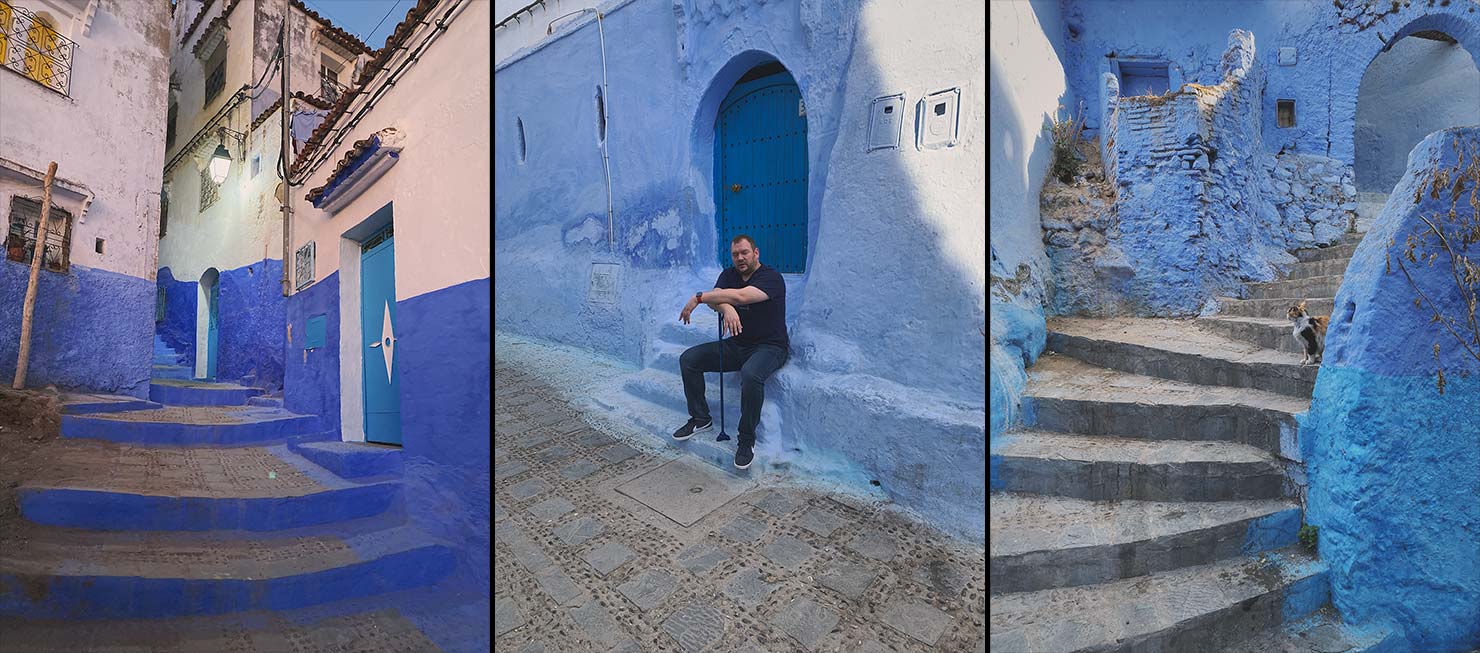 For a week, Vic carried all the kit we needed.
In between walking-stick rests, we shot – we captured the cities, and we drove. And drove, and drove. My box of assorted cushions, braces, straps and balls ever growing – so did the length of the journeys as we headed around the country, and I remember saying to Vic at the time after another few days of zero sleep:
"I'D EVEN DO YOGA IF IT MEANT THIS PAIN WENT AWAY."
For period that followed, things got better – but not as "fixed" as I wanted. Regular appointments helped get me mobile again and were working, but there was still an ache, and I still wasn't "right".
I made a few changes to my kit – making the move to the Phase One XT and Rodenstock lenses for landscapes helped reduce the weight of my kit, as did the use of Frame Averaging to replace some of my filters. Beyond that, switching bags to the fantastic Nya-Evo system was a positive move forward too.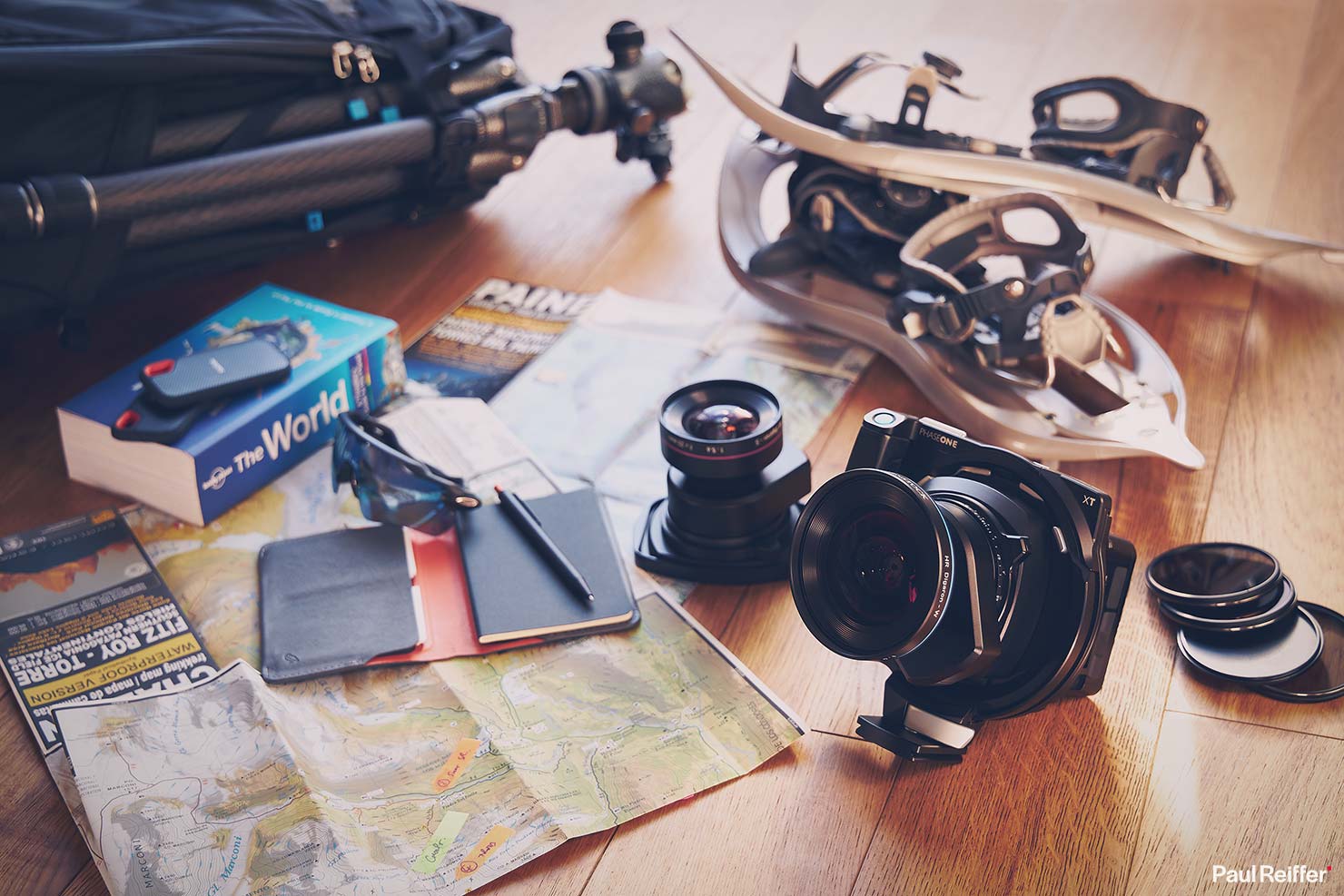 But even though I was able to continue walking and shooting (being lucky enough to shoot around Asia, hike in Yosemite, and explore a bit more of Iceland before lockdown started) – my back just wouldn't get back to perfect.
And then lockdown hit.
I used the Peloton for a couple of weeks, just to keep things mobile, but I still wanted things to be better.
Running the new online editing sessions were great to start up, and the dedicated focus on our business had been a good side-effect of some forced time at home, but I was determined to get things "fixed" – somehow.
Now some of you will remember my note about a yoga mat arriving at the same time as my new Mac Pro system – and it being cast aside…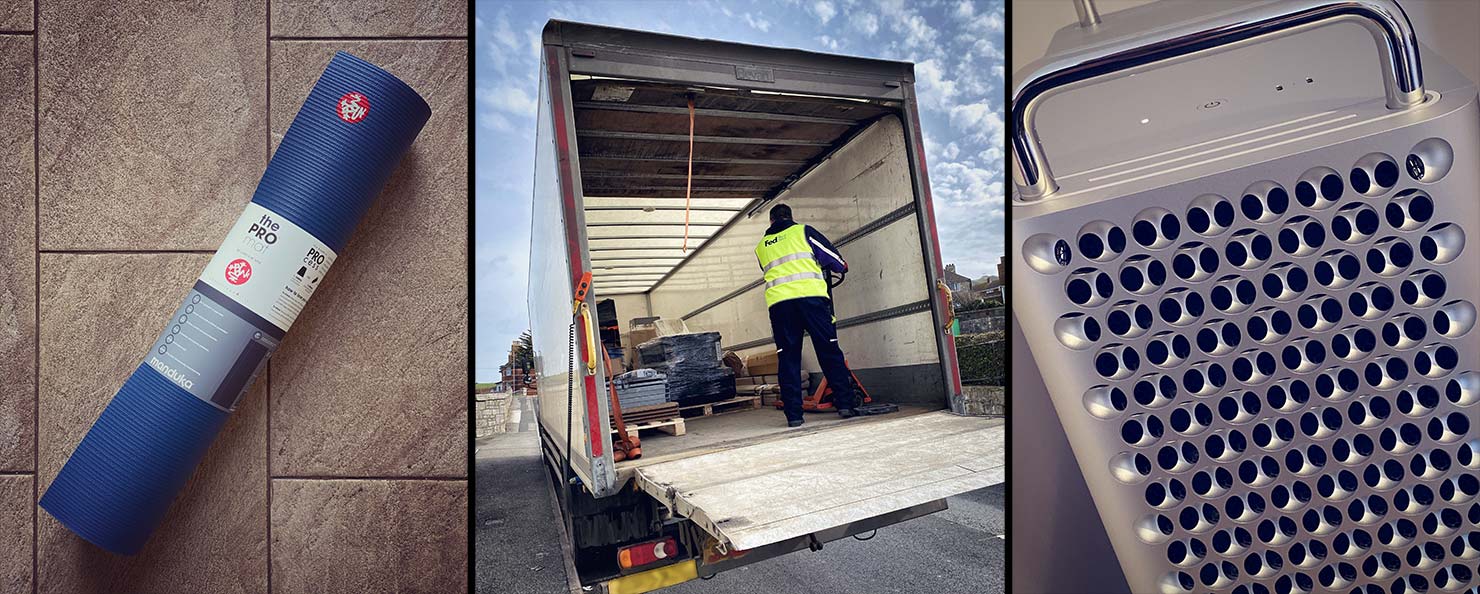 …well, not quite.
You see, at the same time as my travels were cancelled indefinitely, Vic's yoga sessions that she ran across 4 different studios each week were also being shut down due to COVID-19.
Unlike me, she pivoted in an instant – offering what I would consider to be some of the best online yoga classes available.

She invested in the right kit, and overnight managed to bring yoga classes back to her clients who thought they'd lost them forever – with interactive, full-HD sessions in their own homes (not the downsampled stuff that Zoom delivered to most people as in the comparison below):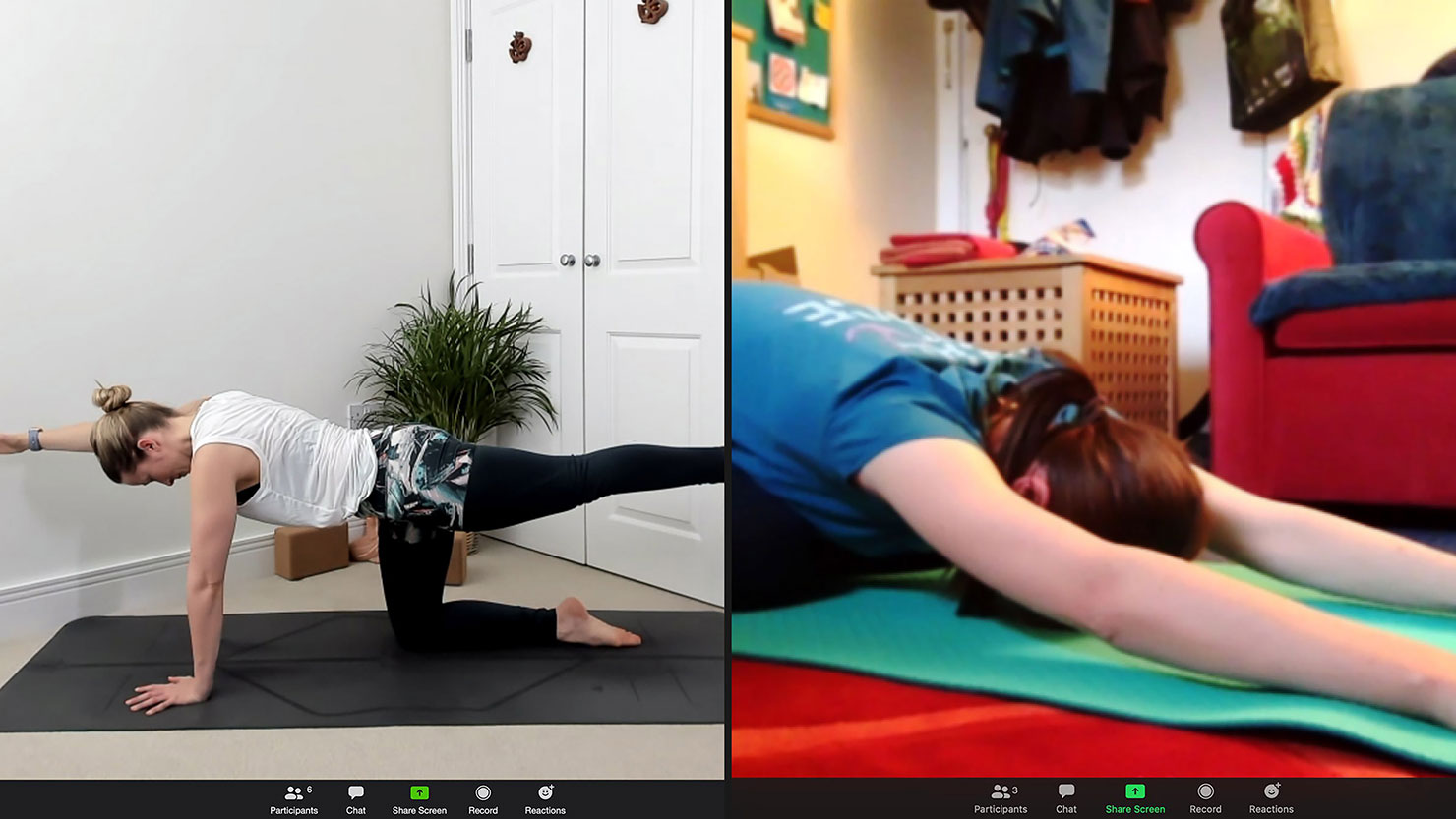 She kitted out with proper mics and sound (where you can still actually hear the instructor when they have their leg around their neck) and a clean studio setup without all the kid/pet interruptions and random crap that I saw in a lot of other offerings.
Here I was, with an amazing yoga teacher not just on my doorstep, but inside my doorstep – offering classes that might – just might – help my flexibility and restore some movement in my back.
So one day, I just turned up.
Evidently it's quite hard to keep a glass-worth of water inside your mouth when Reiffer pops up on your teaching screen, fully kitted out and ready to go – especially when there are other customers in the class who don't know me. But she did.

To date, at that point, my yogic (is that a word?) experience had involved:
Being told off by a teacher for "not taking it seriously".
Not being able to take it seriously because I farted in class (true story).
Listening to people groan on about what an amazing gift it can be for your soul.
Watching way too many wannabe's "having an expeeeerience… maaannn" (with a man-bun).
Photographing Vic in a pose with body parts in the wrong places every now and then.
So this was a bit of a leap of faith…
Session one was brutal. I mean, I am unfit. My legs ached, but my back was OK.
Session two got a bit easier – but it turns out it was meant to be – "pyjama yoga" she calls it.
By session three, however, not only was my back still not hurting – it was actually improving.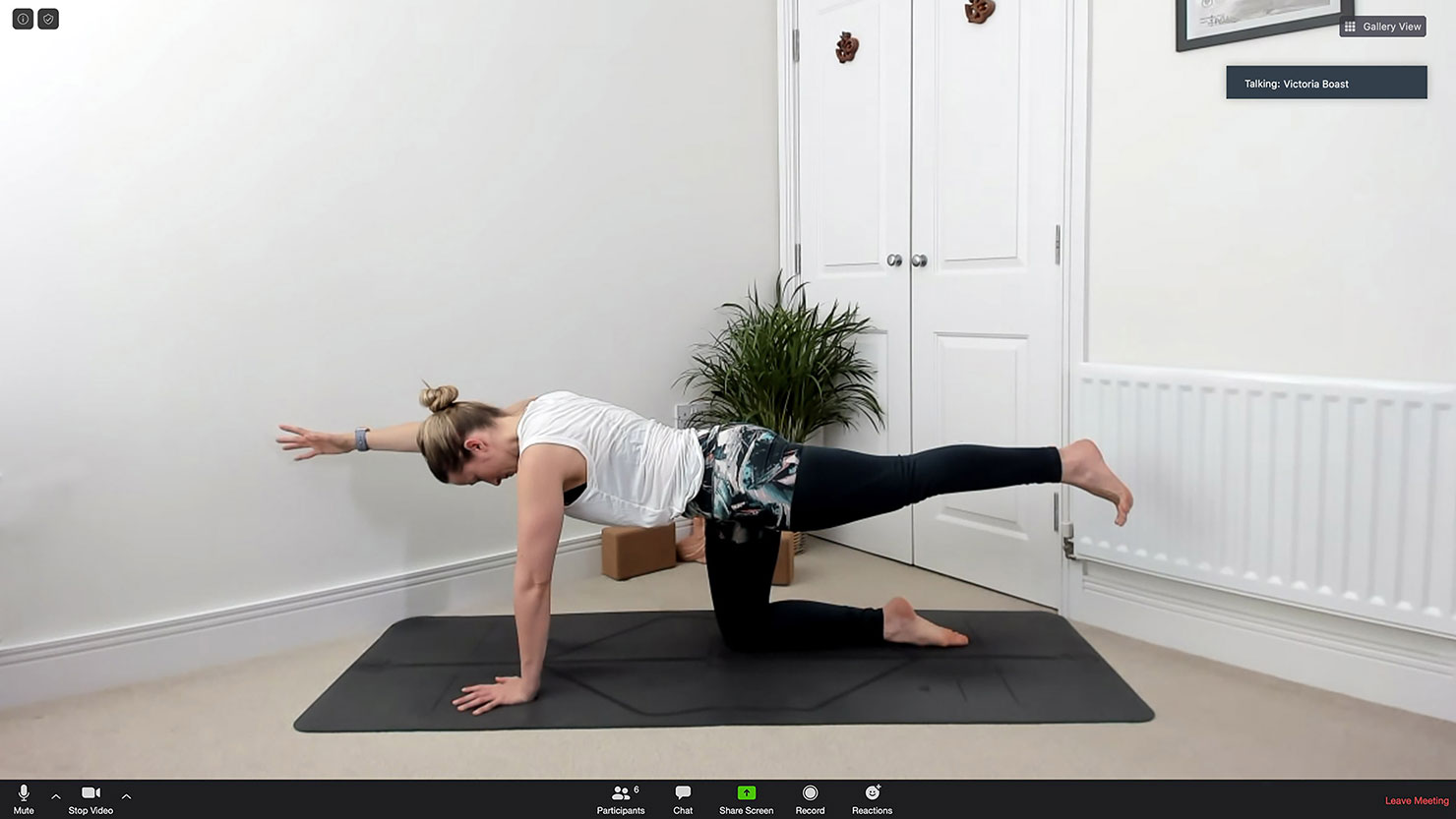 Determined to not give Vic the delight of the "I told you so" that had likely been building up over many years – I checked with my chiropractor if this was all OK.
Not only was it OK, his view was it was actively helping recovery and my overall flexibility had improved no-end. "Whatever it is, it's working so keep doing it".
So I have. 2-3 times a week.

MY version of pyjama yoga, I must say, is now a lot more refined than it used to be – normally accompanied by wine, champagne, nibbles and an incense cow for my own amusement.
But here's the thing – I don't have to leave the house to do any this.
Indeed, I can do it from wherever I am in the world.
As a photographer with only a few days or hours between trips sometimes (which will slowly start to return), I need flexibility – in both senses of the word.
The studio options are great – for those who love being around others to do their stretchy stuff. However, for me, personally, I can think of nothing worse. So ironically, as a result of COVID – I've ended up not only needing, but actively choosing to attend and enjoy Vic's yoga classes.
My back is a million times better – still not "fixed" (it never will be 100%), but WOW it's improved.
Plus, I've learnt a lot…
Doing yoga in a cowboy hat is difficult.
Candles, while soothing, WILL burn your leg when in certain positions.
A yoga strap is not headwear.
When used properly, a yoga strap presents some similarities to S&M gear.
Honestly, as I said at the start (and having come full circle in this rather crazy tale of a year…) – this is not a post I ever thought I would be writing.
But I base my judgements on my own experiences and results. The direct result of me doing a bit of yoga every now and then is that my back (which literally once put me in a wheelchair) has got a lot, lot, better.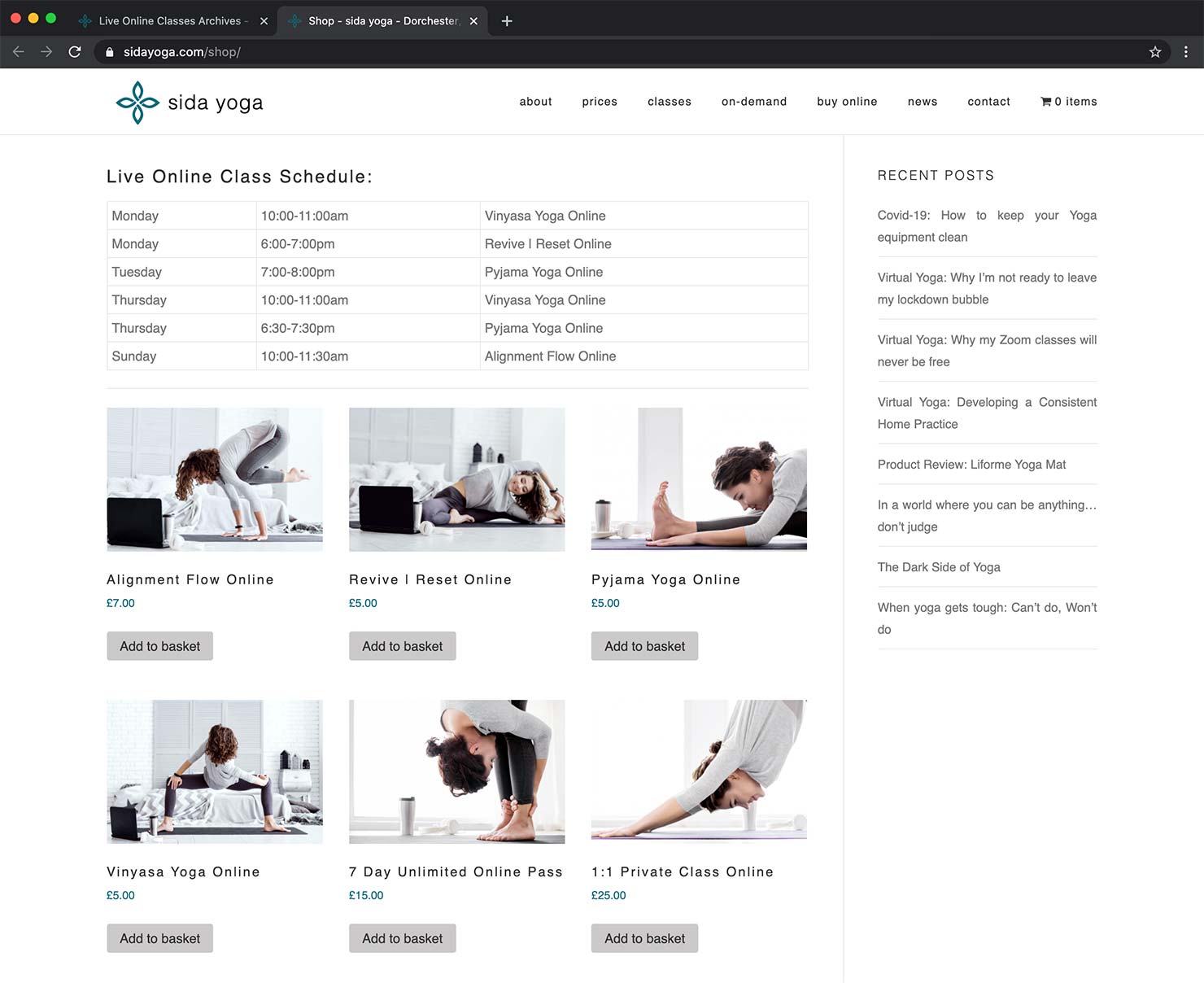 So is this just a promo for Vic's Sida Yoga sessions? Actually, no.
…but she absolutely does get credit for helping get me flexible, mobile, and now ready to shoot once again.
Genuinely though, if you can find an alternative way to maintain your flexibility and strength in-between shoots another way on a timetable that suits you – go for it! Seriously.
However…
Do I think her online classes helped fix my back? Yes. (And so does my chiropractor)
Do I think it's one of the best offerings in the industry? Absolutely.
Has she helped many others with flexibility issues during lockdown? Yup.
Will I continue doing it? As long as I can.
Can I see myself ever walking into a studio to "be a yogi"? Oh hell no.
Do you need to get into all the mumbo-jumbo stuff in order to do yoga? If you want – but it turns out that's not actually necessary.
Oh, and as a final thought – landscape photographers, specifically…

DO seriously consider what you carry in your camera bag each day – we have it on our backs for a lot longer than you realise. While you'll go through a lot of cameras in your life, you only have one spine.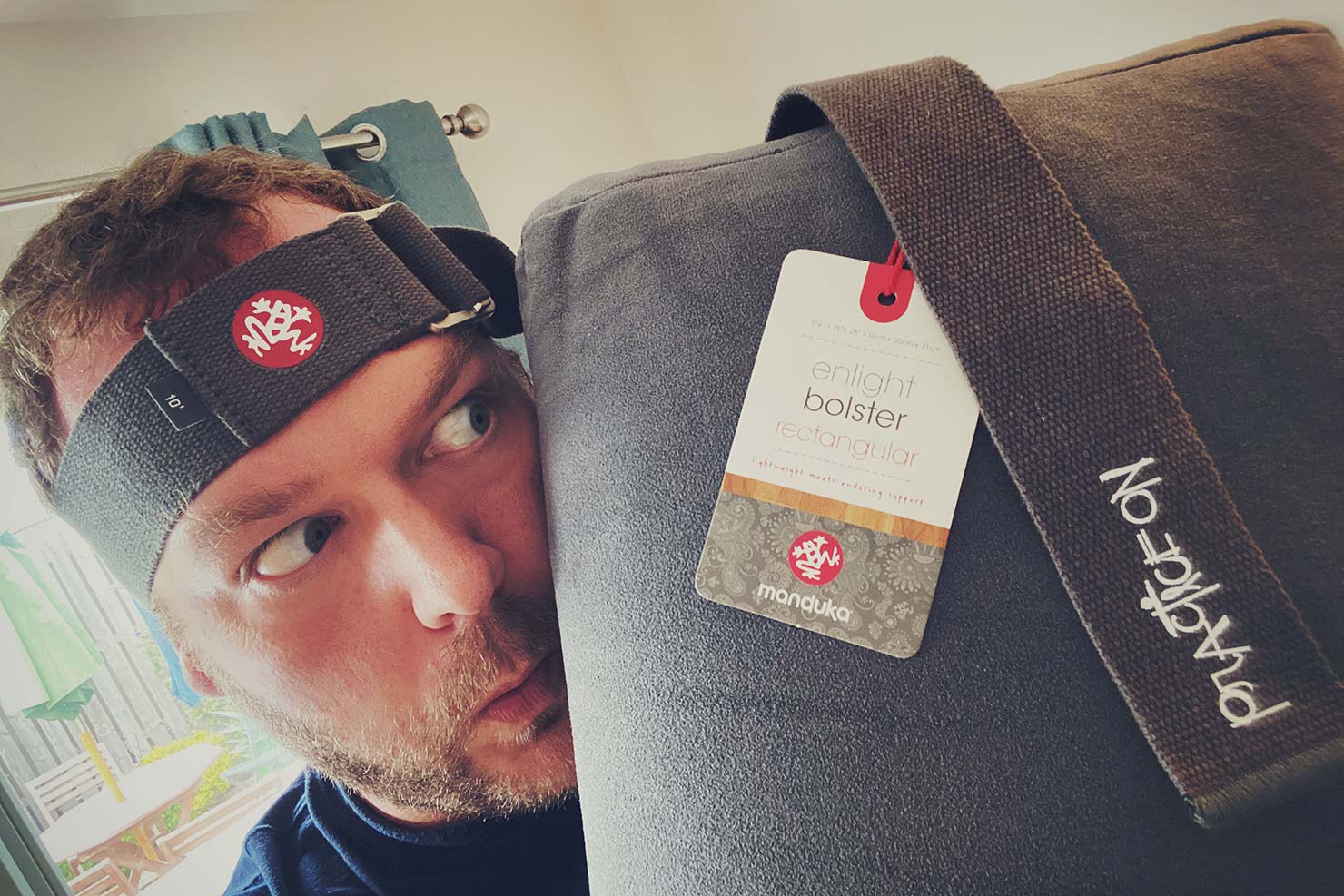 (Says the person who's spent more on yoga props than on camera equipment over the past 6 months :-p )