My first visit to Beijing was a bit of a mixed bag – on the one hand, it would have been "rude not to" visit the capital city, given I've been living so close in Shanghai. On the other, it didn't really impress me as much as I'd expected. Given the effort it took in order to get there, I also wasn't keen to repeat the visit. However, a random "empty weekend" and a chat with ST lead to us booking a trip back up north to shoot both the city as well as the Great Wall of China.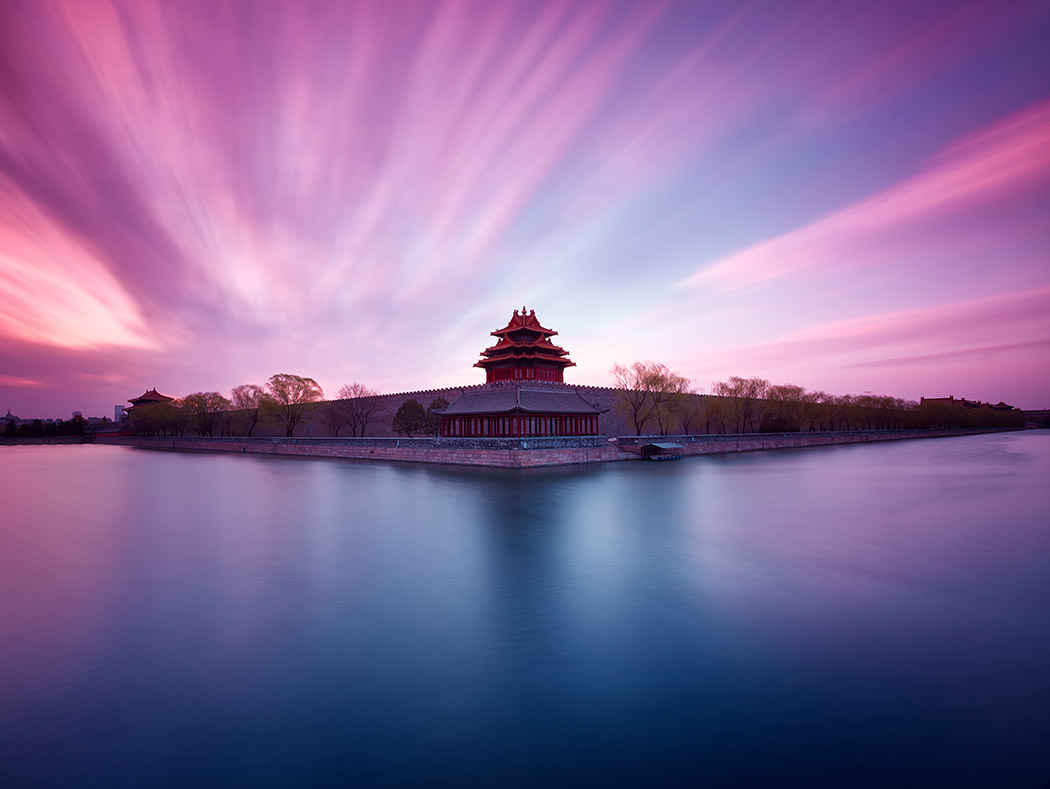 Am I glad I went? Sure – this time, we were a lot more prepared 😉
As always with a new city, the first time is always an exploration. The cheating and corrupt tour guides, combined with the fact that the Chinese government still seem intent on blocking access to any form of public information such as "google images", meant it was tough to land and take great shots the last time I was there. This time, we were ready – with locations, timing and our own hire car!

On a positive, Chinese high-speed rail really can be fantastic. Flat beds, power points and 350km/h train speeds mean you arrive in Beijing from Shanghai a lot faster than it would take in total on the equivalent plane journey. Another benefit? The trains are always on time – planes here never are…! On a downside, the food is still not far from something has been trawled from the gutter, but hey – at least it was comfortable for the price of US$600 return 😉

Landing, we got straight to work. The guys at the China World Summit Wing had been especially helpful and accommodating – and while disappointed by the sunset from the roof of the highest building in Beijing, we were treated to an amazing cityscape down below. Beijing's traffic problems were also laid out before us – with stationary cars still visible even after a 1 or 2 minute exposure!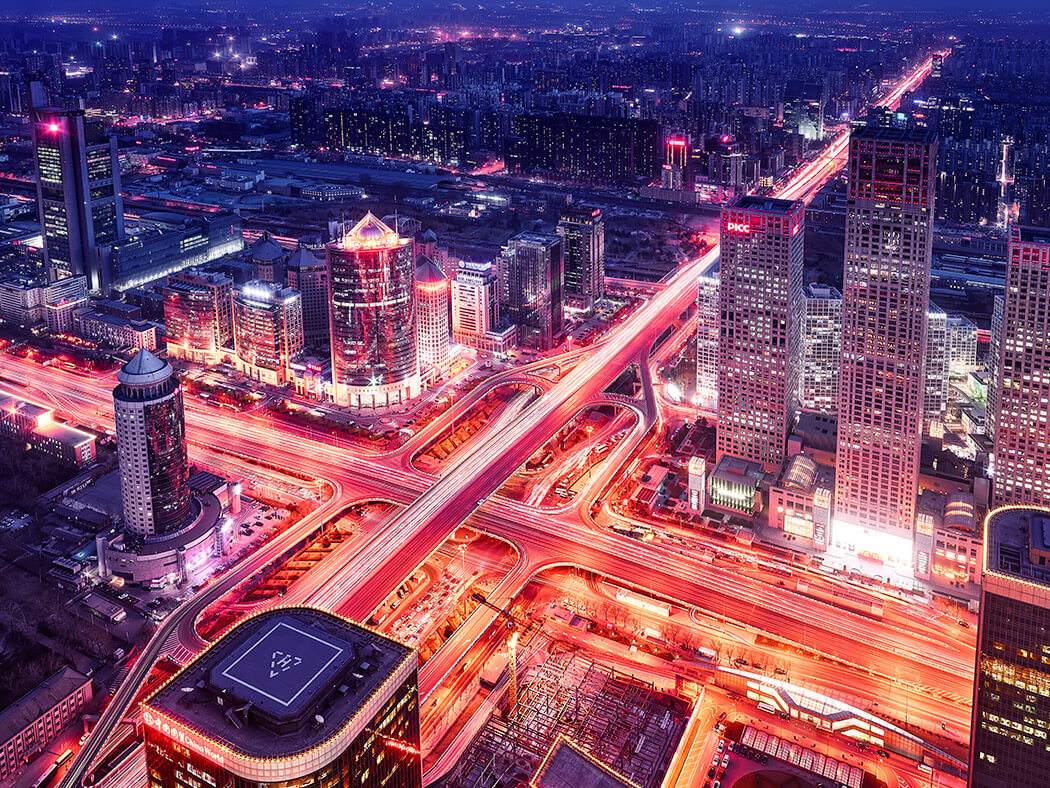 It's weird to think that we were perched on the very edge of the tallest building in the city when you look up at it from below. We were literally looking straight down over the cars beneath us, with the wind pulsing up from the sides of the skyscraper, but what a fantastic light-show we were treated to as a result. Checking out some of the other rooftops, it was clear to see why we got such a good view – this building really does tower over everything else on the skyline, including the stunning CCTV building as seen on the right of this shot: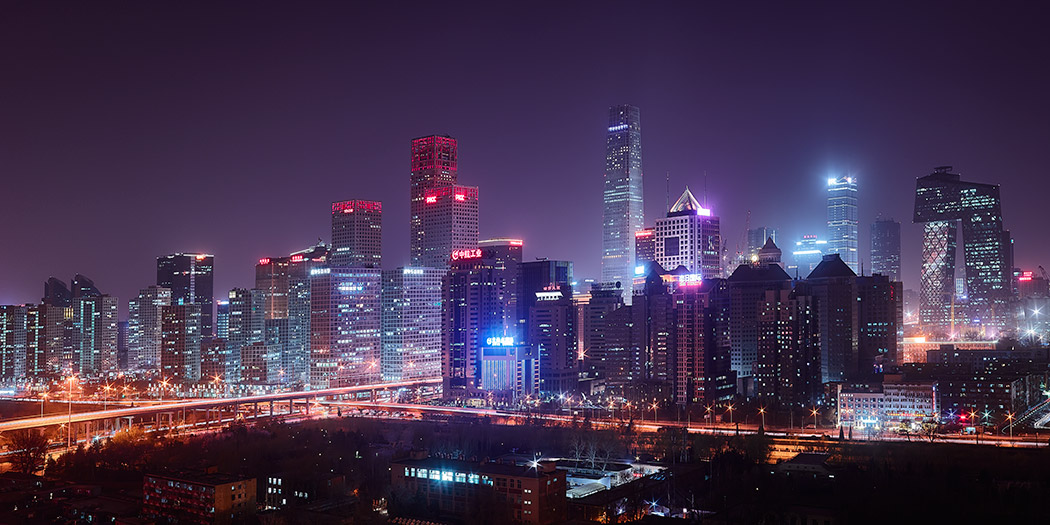 Now for those who think photography such as mine is always fun and exotic, I can guarantee it's not…! After a night spent scouting other rooftops (finishing at midnight), we were back up and awake at 3:20am getting ready for the drive to Mutianyu Great Wall.

This is the same section of the wall that I visited last time, but I wasn't 100% happy with the photograph I got at sunrise. Getting to the base around an hour before sunrise gave us time to hike up to the wall before any tourists arrived (and sadly, before the cable car started!), meaning a completely empty scene. The sky was clear, sun in the right place, and luckily, we got the shot I wanted 🙂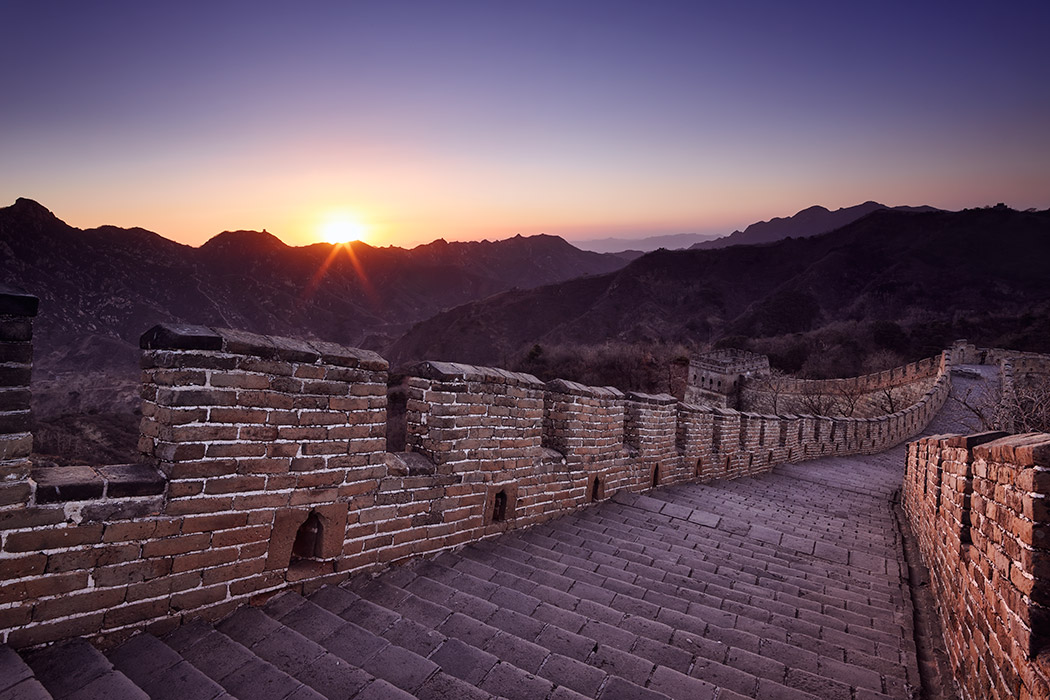 The warm tones, detail in the far mountains and texture on the wall itself were exactly what I had in mind. The wall stations going on for miles and miles in the distance were just what I was hoping for as a silhouette against the rising sun, and the lack of people was the final tick in the box. Unlike my last visit, there was no ice on the ground, but it was still bitterly cold (especially before sunrise!) – so a warning to others, make sure you wrap up warm!
After a short while exploring other angles (of which I captured many), it was time to head back via the "quaint little village" at the bottom (read: tourist tat and subway take-out!) before our drive back to Beijing. The city itself seemed a lot more "chilled out" than my first time there – maybe because I'm now a lot more familiar with China as a whole – but it was actually nice to sit at a restaurant overlooking the Forbidden City for lunch while preparing for sunrise (the top shot) over the 180 acre site itself.

So that was it – The Great Wall of China, Forbidden City and a Beijing Cityscape! On my checklist of a successful trip this time, I'd ticked the boxes…
But then, I'm not one to give up on one last night – so back to the high-rise shots over the city. The saddest part of my trip? Realising that Beijing is actually surrounded by a fantastic mountain range! In both visits, as well as every time I'd ever seen the place on TV, it's been so polluted that you can't see beyond a few blocks. The last night there, we were treated to an amazing amount of visibility, and a clear sunset – priceless!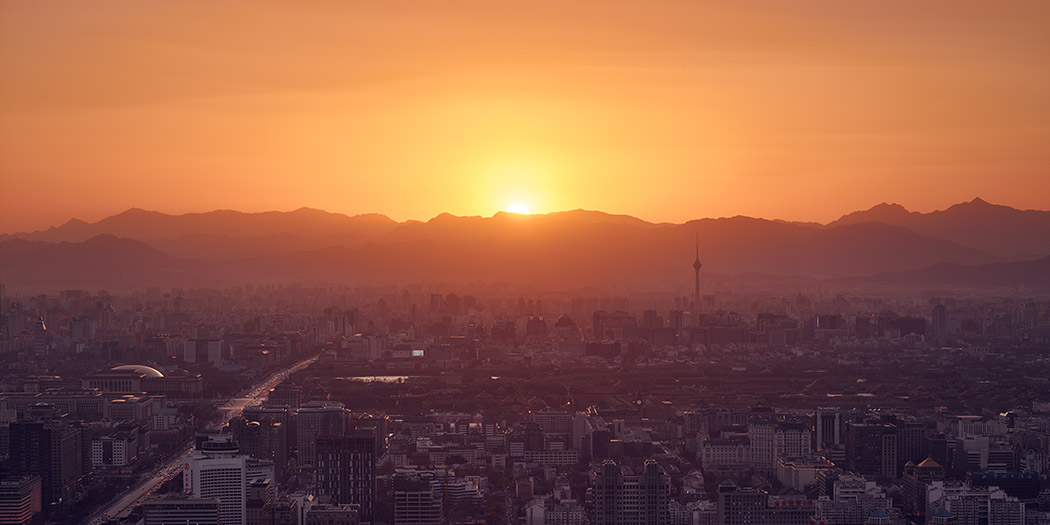 Not wanting to waste it, of course it would have been rude not to wait until the city lights came to life later in the evening, but wow – for a brief moment in time, Beijing actually looked nice!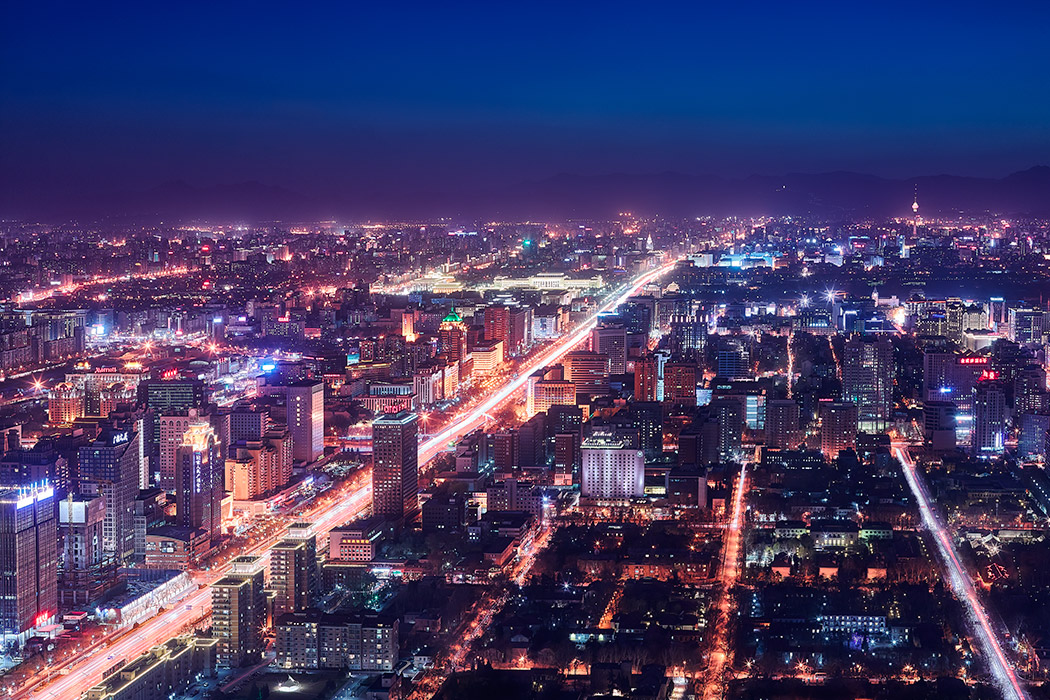 I have to say, photographically, this time in Beijing I was more impressed. Having our own car means the corrupt taxi drivers didn't get the better of us, and staying in an amazing hotel was a definite win – but I think this will be my last trip to Beijing itself. Interesting? Yes. Somewhere I want to spend a large amount of my life? No…. 😉