That's right – I've decided to provide a watermark free copy of my Horseshoe Bend sunset image for use as a desktop wallpaper*. The image was taken in July this year, just as the sun hit the tip of the desert horizon in Page, Arizona. From this amazing vantage point, you can see the Colorado River snake its way around the huge rock formation as it makes its way to the Grand Canyon National Park. For those interested in shooting Horseshoe Bend, there's more info about this particular image here. 🙂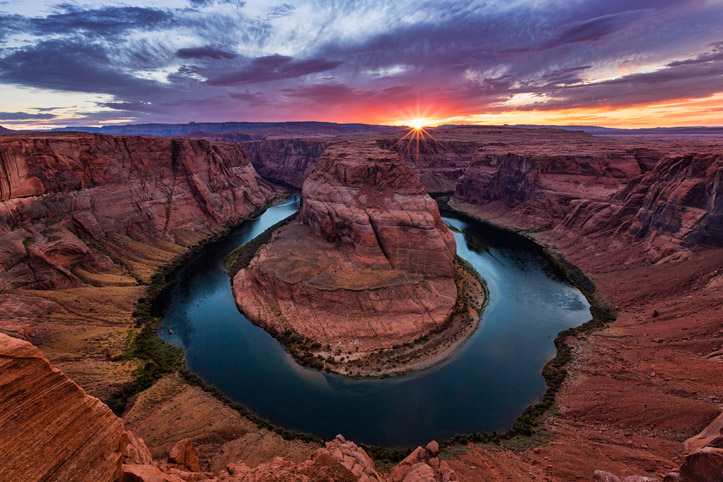 Download links are at the bottom on this post in various sizes (accurately resampled for the best detail level at each resolution)
So, why on earth would I do that? I mean, I sell prints, right? That would be crazy! Well… Maybe so, but maybe not.
You see, it struck me this week (and got me thinking further) that while a watermark is great for getting a name out there and a good reminder of who shot a photograph, it can also seriously detract from the feeling you're trying to convey with an image. The debate over whether watermarks should be used or not has been going on as long as image theft has been around on the Internet. The reality? If someone is determined enough to steal an image – a little line with a name on it is nowhere near as powerful as photoshop's vast array of tools; so they will. Instead, maybe as photographers we should start trusting the fact that customers want (and will continue to want) high quality, high resolution images, to display. After all, you can't really use a photo at 1500×1000 other than for printing at the same size as an old 6″x4″ snap of years ago. Of course, there is value in getting a name out there as a reminder of who a photographer was, but surely there needs to be a balance.
I provided an un-watermarked image yesterday for someone to use as personal promotion online. Why? Well, they weren't promoting ME, so why should my name be on the image? Yes, I clicked the shutter – but who can really enjoy a photograph with someone else's name embedded across it? So, following the same logic – I figured nobody wants to see "Paul Reiffer" embedded into a rock (and that's not what I saw or wanted people to see when I took this image!) so let's allow people to enjoy it distraction-free, as it was intended.
Of course, if anyone wants to buy a high quality print of this (the original is over 11,000 pixels wide and looks amazing on metallic paper… 😉 ) then feel free to do so on my "buy prints" page here, but in the meantime, feel free to select the nearest resolution to your own computer below and enjoy…!
Download options: (By downloading, you are agreeing to the terms at the bottom of this page*)
Download at 1680 x 1050 Pixels (Suitable for Retina MacBook Pro Displays)
Download at 1440 x 960 Pixels (Many 13.3 inch laptops carry this size)
Download at 1440 x 900 Pixels (Suitable for MacBook Air 13 Displays)
Download at 1366 x 768 Pixels (Suitable for MacBook Air 11 and Windows 8 Widescreen Laptops)
Download at 1280 x 768 Pixels (WXGA PC Displays, Widescreen)
Download at 1024 x 768 Pixels (XGA PC Displays, Non-Widescreen)
Sadly, because there are some nasty people out there, here is the small-print I have to make you aware you are agreeing to by downloading these images:
* On receipt of any downloaded image from this page, you are granted a non-exclusive, non-transferable license to use the Image on the terms and conditions explained in this Agreement FREE OF CHARGE.
You may use the Image
In digital format for personal enjoyment only.
You may not use the Image
For unlawful or other immoral purposes, for spreading hate or discrimination, or to defame or victimise other people, sociteties, cultures.
To endorse products and services.
For any form of personal or commercial gain.
As part of a trademark, service mark or logo.
In or on any form of printed format or media
Selling and/or redistribution of this image is strictly forbidden.